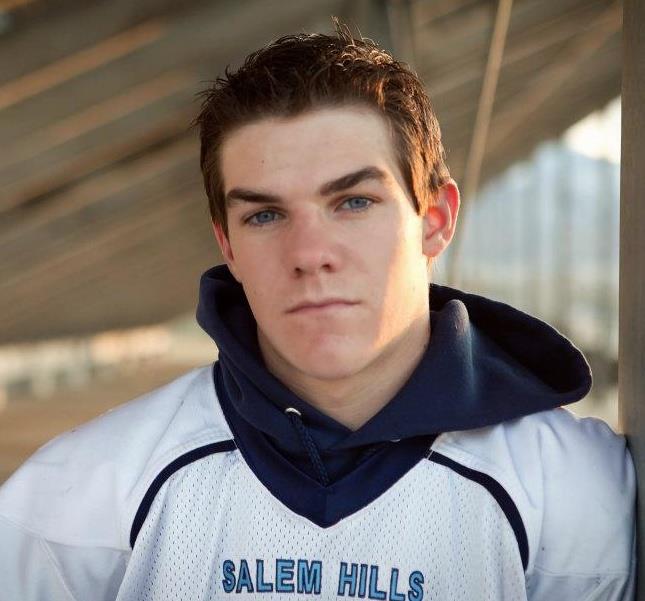 This archived article was written by: Michaella Crooks
Scott Lyman is a freshman player who likes the outdoors, let's the cheerleaders take egg throwing blame and loves his family. Lyman, a 5 feet 9 inch tall baseball player, has three younger siblings; one brother, and two sisters. "I love hunting and playing sports. Being outdoors is one of my favorite things to do. My favorite color of is blue; all shades of blue."
Next year Lyman plans on returning to Utah State University Eastern and furthering his education while playing baseball. "I hope that by the end of next year, I will have my associate's degree."
One of his favorite childhood memories was when he hit my first homerun. "It was the bottom of the sixth and we were winning by only one. I walked up to the plate, tapped home plate and got ready to hit.
"The pitcher came set, looked at home plate and threw a fastball right down the middle. I swung so hard that I closed my eyes and somehow hit the ball, and somehow it kept going and going clear out of the park. I had the biggest smile on my face running around the bases."
Lyman once got pulled over two nights in a row by two different police officers at the same stop sign. "I didn't stop all the way. I got away without a ticket both times. Once because our softball team won state, and the second time because my baseball team had just won state."
The most embarrassing thing that has ever happened to him was when he and his brother went to a Jazz game. "As we were leaving the game, an usher was holding the doors open for people as they left the game for some reason, I decided to go through a different door; one that he wasn't holding open. Except as I tried to walk through the door, it was locked and I ended up smacking my face right on the glass part. After I nailed my face, I had to go through the door that was being held open and the usher totally just watched me smack my face."
The most important person in Lyman's life was an easy question for him to answer. "My mom is definitely the most important person. She does everything for me. She cooks, cleans, does my laundry and is always there for me to call when I need someone to talk to. My mom is probably my best friend; she will and does do anything I need help with."
Lyman went through a close call with a police officer in school. "One night my junior year, me and my two good friends decided that we were going to go throw eggs at anything we wanted. We mainly threw them at street signs and light posts, except for two of them.
"My friend threw one at the police chief's house and missed, but ended up hitting his car right on the windshield. As you can imagine, we flew out of there un-caught.
"The next night, our high school cheer team decided they were going to egg people's houses, but since we hit the police chief's car, the police were already heavily out. So they got caught and got blamed for egging three houses, including the police car.
The weirdest food he has ever tried would have to be frog legs, which he enjoyed. Lyman has had some pretty bad injuries, including a broken right arm, broken right ring finger, separated right shoulder and dislocated right shoulder."
If you want to scare Lyman, try using snakes. "I freaking hate snakes. They are the nastiest things in the world."
According to Lyman, the season this year for USU Eastern baseball has been a little rough. "But things have started to turn around, and our near-future looks bright." The highlight of his baseball season so far is when the team beat Western Nevada.