USU Eastern 2015 Graduation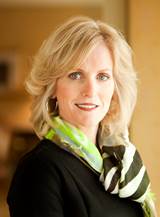 This archived article was written by:
The executive director of the Governor's Office of Management and Budget will keynote USU Eastern's 77th commencement exercises on Saturday, April 25, at 10 a.m. in the Bunnell-Dmitrich Athletic Center.
Being one of the key appointed officials in Gov. Gary Herbert's administration, Kristen Cox brings a wealth of experience and education to the position. She performs her day-to-day duties without the ability to see, but has not let the loss of her sight stop her from achieving at work, entering politics or enjoying the outdoors.
She was born in Utah and credits her mother for her work ethic and determination. She earned her bachelor's of science degree from Brigham Young University in educational psychology and served a mission for the Church of Jesus Christ of Latter-day Saints in Brazil. She still speaks fluent Portuguese.
President George W. Bush appointed Cox to a position with the Department of Education in Washington DC. She was also Secretary of the Maryland Department of Disabilities and held positions with the National Federation of the Blind.
In 2006, she ran for lieutenant governor in Maryland's general election as the Republican candidate.
She returned to Utah in 2007 and was appointed as the executive director of the Department of Workforce Services, establishing a division to ensure the organization uses proven tools and methodologies to support the best possible outcomes for customers.
By 2012, Utah Business Magazine ran her photo on its cover with a cutline that read, "30 Women to Watch." That same year she was honored at the Days of '47 Parade with "Pioneers of Progress Award for Business and Enterprise."
When Herbert appointed her to the GOMB position he said, "Cox's paradigm of constant improvement stands out. She has demonstrated impressive leadership and vision at the helm of one of Utah's largest agencies…That is exactly the approach I want as we work with agency heads to streamline operations and ramp up performance management."
A champion of continuous process improvement, Cox designated the Theory of Constraints (TOC) and her SUCCESS Framework as the guiding process improvement tool for Utah state government.
By integrating operational excellence with the state's management and budgeting practices, Cox and the GOMB team work with all cabinet agencies to achieve at least a 25 percent improvement to state government operations by January 2017 by focusing on quality, capacity and cost. A cornerstone of this initiative is a focus on evidence-based practices and data-driven decision making.
Cox and her husband, Randy, have two sons. She says they love the outdoors—especially hiking Utah's mountains and trails. She is an avid reader and loves being active. Some of her favorite activities include yoga, spin and boot-camp classes, skiing, and she recently paraglided at the Point of the Mountain.
2015 Valedictorian and Salutatorian
A business major and a basketball player have been picked as 2015's top students. Carson Tatton and Madeline Murphy will represent USU Eastern as Valedictorian and Salutatorian at the 2015 commencement ceremony.
The Valedictorian, Tatton, is a Carbon County native and graduated from Carbon High School in 2011 with high honors. He first began his journey at USUE in 2011 before leaving to serve a LDS mission in Thailand. After two years he returned to USUE to begin classes once more.
Discovering his drive for business, he began to take classes to achieve his degree. A member of the school's Phi Beta Lamda business club, Tatton devoted himself to his studies. He also volunteered to help locals with their taxes with several other students. Tatton plans to continue his education at Utah State University in fall of 2015.
Murphy, student selected as Salutatorian, is a native to Salt Lake City and attended West High School. She graduated high school with an international Baccalaureate diploma as well as several advanced placement (AP) credits. Following high school, Murphy came to USUE to play basketball. She has been a part of USUE's basketball team for the last two years.
Murphy plans to continue her athletic career and education at Missouri Valley College this next fall. Murphy's goal is to achieve a Bachelor in computer information systems. After this achievement, Murphy hopes to attend medical school and become a doctor.
Both Tatton and Murphy will be honored at the 2015 commencement ceremony.