USU Eastern attracts Hollywood veteran for "Hamlet"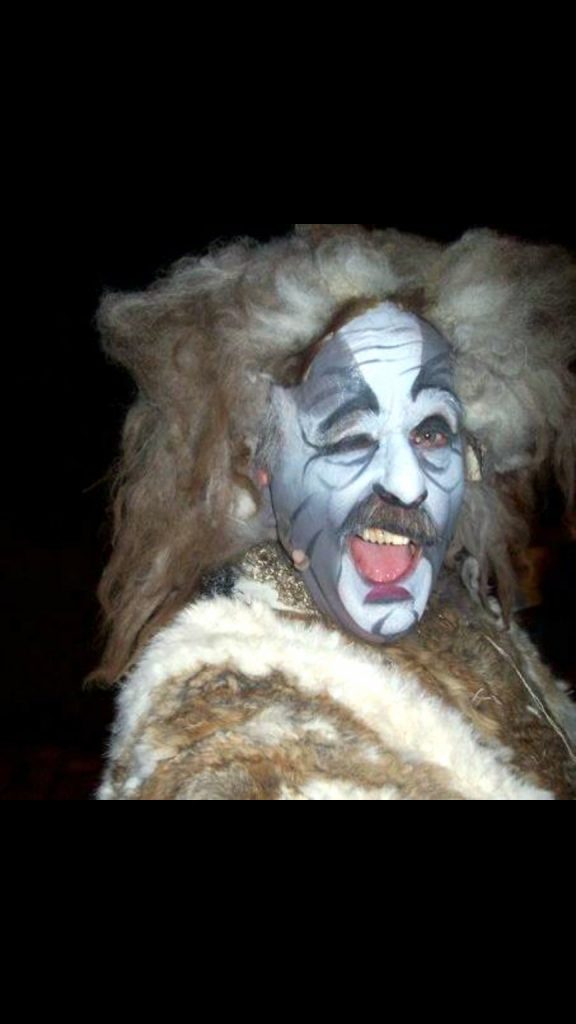 This archived article was written by: Christopher Palo
With 50 years of Hollywood film and television credits as long as your forearm and theatrical credits as long as you leg, actor Jerry Hoffman has joined the USU Eastern cast of "Hamlet," playing Polonius for the next six weeks.
If you have seen episodes of the "Waltons," "Three's Company," "Flamingo Road," "Gunsmoke" or more recently "Sea Monsters: A Prehistoric Adventure," "The Kolaborator," or "Puppet Master: Axis of Evil," you will have seen the veteran actor.
Hoffman literally drove from Los Angeles, Calif., Oct. 26 to start learning lines and begin rehearsals with the Eastern cast of "Hamlet" that night.
"I called my agent and told her to not schedule me for anything until after 'Hamlet' is over," Hoffman quipped.
How did a journeyman actor get cast in USU Eastern's performance of "Hamlet?" It's easy if one knows Eastern's Brent Innes who worked with Hoffman when he appeared in "Tarzan," "Crazy for You" and "Cats" at St. George's Tuacahn Theatre.
Innes is technical director and producer for "Hamlet" and was technical director for "Tarzan" where Hoffman played Jane's father.
Innes called Hoffman and asked him if he would be interested in playing Corambis, later named Polonius. Hoffman said, "let me think, yes." 
Hoffman says he has always loved Shakespeare and would love to act in Cedar City's Shakespearean Festival sometime. He says acting in films makes money, but live theater is where he really has fun.
Fresh off of a theatrical run of "Bagel," a play about the automatic bagel machine, Hoffman agreed to act in the Eastern show for room and board. He smiled when he said he has never lived in a dorm before, but did go to college and graduated with a degree in theatre from University of California in Irvine.
Eastern's version of "Hamlet" is called a "Dirty-Quattro," meaning that it's the first draft of the show. Essentially, this version is the first draft of what Shakespeare wrote in his notes about Hamlet. Someone may have picked them up and published them. This is that play, Innes said.
Audiences should enjoy this artistic take on the beloved classic, Hoffman said. "If they have a willingness to watch, they will enjoy it."
Hoffman has played in "Hamlet" productions twice before. "It's the most performed play of all time every year. With Shakespeare you have to watch the relationships between characters. And remember that 90 percent of the words he wrote are still in our language today. He's a poet and came up with 1,300 phrases we still use."
Hoffman grew up in Kentucky and moved to California when his mother got transferred. He said his girlfriends got him interested in theatre because they were always auditioning for plays and he went along to be with them.
Hoffman's favorite actor is Dakin Matthews because he is smart and easy to work with. "I enjoy smart people to work with whether in plays or films."
Joking, Hoffman said being an unemployed actor is a full-time job and uses his time off to take voice lessons and learn new music. Would he do it again, "oh yeah, I would major in theater again, I love it."
Hoffman thought about leaving the field and getting a regular paycheck. He was admitted and attended Whittier School of Law and from the first day of classes, hated every second of it. He finished, passed the bar and immediately went back to being an actor.
Hoffman has done hundreds of commercials playing a young dad until he was 40 and found that gracefully aging has fewer rolls that he is offered. He remembers an 8-year-old Ricky Schroder joining him in a Special K commercial.
Hoffman's advice to younger actors, "go for it, don't be scared, stick it out and talent helps."
"I've been very lucky with life," Hoffman says, while talking of his career and family. He once got a role in a Serbian movie, where he only spoke in Serbian. The director said, "can you learn Serbian?" Hoffman replied sure and spent the rest of the time with a Serbian tutor learning his parts in Serbian. He went to the next auditions for the movie and got the part. 
That dedication to one's craft is paramount for success. There has been many times when Hoffman has gone the extra mile and learned a new skill, all for the love of his craft.
Hoffman's daily mantra is from "Hamlet," which speaks of his dedication to his love of acting, "To thine own self be true. It must follow as the night and day thou canst not then be false to any man," meaning live your life how you want to, chase your dreams and never give up.