Cooking with Toby: delicious white-bean-chicken chili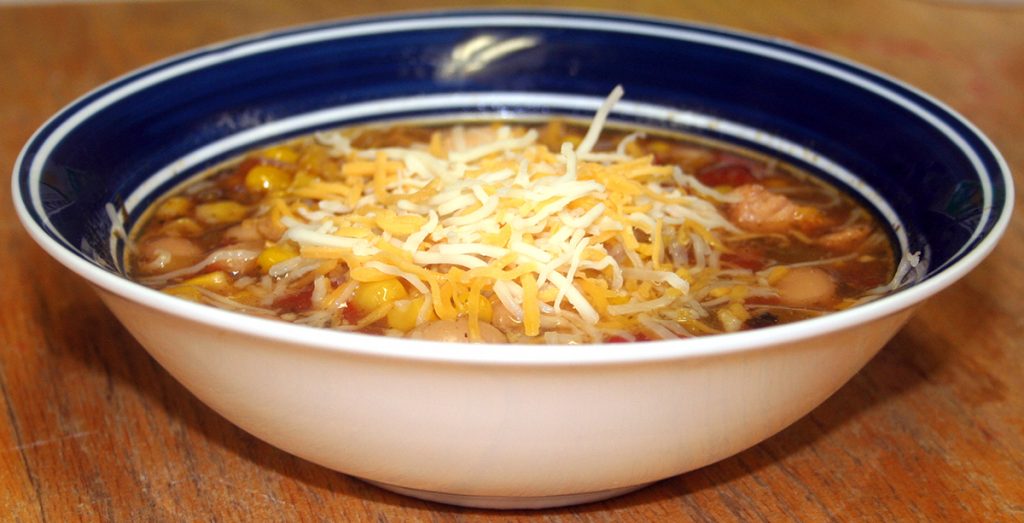 This archived article was written by: Toby Foster
With winter still in full force, I think that giving everyone a recipe for chili would be helpful. If you are from New Mexico, you will probably want to stop reading or just plain yell at me for calling this chili. In New Mexico, chili is red or green chili peppers with some kind of meat. Usually you eat it with tortillas, but you can eat it by itself. Now let me tell all New Mexicans this, you are the only state that refers to that as chili, you are the only ones that call chili, "chili beans." Now leave us alone and find something more useful to do.
When you make a chili, there really are a lot of open ended-bits and pieces to consider. Most chilies are made with ground beef and pinto beans, but there really is no defined way to do this. The components that must be included are red or green chili peppers.
I am going to be taking a handful of short cuts with this recipe. To do it fully from scratch would simply take too long to be useful to a college student. I will use Rotel which is pre-mixed tomatoes and green chilies with seasonings. I really like using Rotel for many different recipes to save on time. I am also adding in Southwest corn since it has corn and peppers to again save time since it is precooked.
This recipe calls for raw chicken. However, if you want to get it done faster you can use precooked canned chicken and skip the frying step entirely just adding the chicken and garlic directly to the pot. If you have a crock pot, you can prepare everything the night or morning before you plan to eat it and just let it simmer all day. That is what I did for the example pictured.
You do not have to, but I like to rinse off my beans after draining them. I started the habit while working at Taco Time. We rinse off the black beans after taking them out of the can because while in the can they develop a thick film on them that tastes terrible. The same is true of most canned beans.
The ingredient of green chilies is noted as optional because I know not everyone can handle its heat like I can. I actually ate this and thought it was too mild. My friend who tried it with me said it was really hot so try what you think you can handle.
2 small, boneless, skinless chicken breasts or 1 large chicken breast
2 tbsp oil
1 tsp minced garlic or ½ tsp garlic powder
1 can of great northern beans
1 can Rotel
1 can southwest corn
1 can green chilies (optional)
2 cups water
3 tbsp flour or corn starch
2 tsp salt
1 tsp parsley flakes
1 tsp onion powder
1 tsp black pepper
½ tsp cumin
½ tsp paprika
½ tsp ground coriander seeds
Cut the chicken into bite size pieces. Heat the oil in a frying pan. Put chicken and garlic into the pan and cook until chicken is fully cooked.
Open and drain the great northern beans. Open the remaining cans and pour all of them into a large pot. Add the water and corn starch or flour, and stir until dissolved. Add salt, parsley, onion powder, pepper, cumin, paprika and coriander.
Cook on stove on high until it comes to a light boil, stirring occasionally. Reduce heat to medium and simmer for 10 minutes stirring occasionally. Serve, then refrigerate leftovers.