Fields brings professional/college experience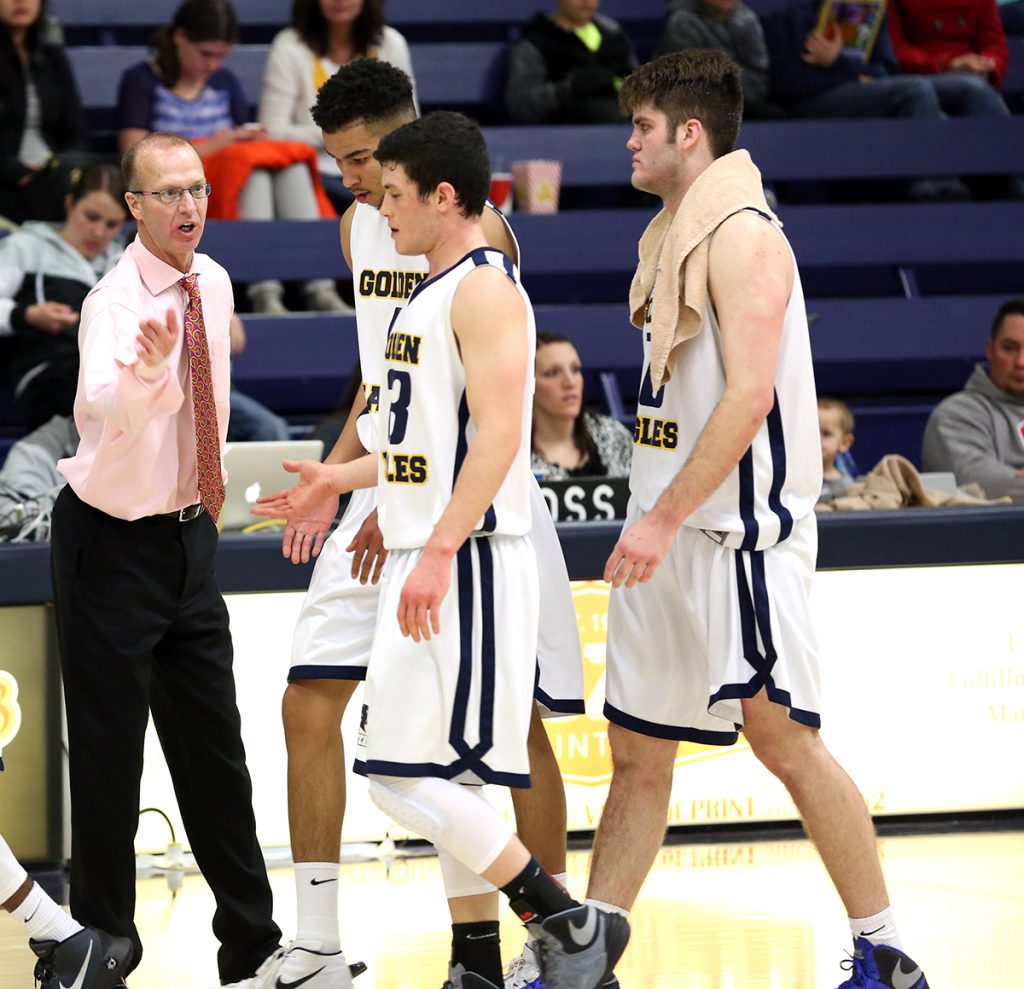 This archived article was written by: Donnie Corwin
From his involvement with Jerry Sloan and the Utah Jazz, to head-coaching jobs in China, Scott Fields has had a broad range of experiences in the world of basketball, and now finds himself alongside Head Coach Adjalma "Vando" Bechelli and Assistant Coach Justin Brown at Utah State University Eastern. Fields has complemented the coaching staff extremely well so far, and has received high praise on campus for his positive coaching style on the court.
"I've had families and friends of mine and people in the stands come up to me and say they love my passion, enthusiasm, and positive approach, and I'm touched by that." Fields said. His impact has surely been at Eastern, and everyone from athletes, staff, to students and parents have taken notice of his active participation- never wavering and keeping a cool head even in nail-biting moments.
Though well deserved, Fields obviously doesn't do what he does for the praise — one conversation with him about the team is enough to see that. His bond with the young men of USU Eastern basketball is evident, and has been in the works for quite some time, as he spent the previous year watching his son and this year's team captain Brandon Sly from the stands, building that bond and getting to know the team early on.
According to Coach Fields, the biggest change of 2016 for the team has been the change up in offense, creating spacing and opportunities to let the players "do what they do best."
Fields already seems to know what each player does best, mentioning a few talents from members of the team. "Tevin [Farris] and Solomon [Rolls-Tyson] are guys that can face up and score, they can catch and shoot, and take people off the dribble. "
"Brandon [Sly]" Fields continued, "has great room to work the pick and roll. Phil [Winston] Is a great slasher, he can get to the hole and play above the rim.
"You also have guys like Austin [Anderson] and Alex [Morell] who have really accepted the changes and done well." Anyone watching the games this season can agree that Fields' observations are spot on, as every player has had stand out moments in the last few games.
It's not just the players that Eastern's new assistant coach has resonated with, but the existing staff. Fields especially appreciates Head Coach Becheli for opening his doors and allowing this coaching opportunity. He also openly gives praise to Becheli for the man's great court prowess and his ability to focus on patience and  positivity and bringing out the best in the team. Fields also admires Becheli's involvement with the players, how he cares about them as individuals and wants to prepare them for their journey in basketball. While Fields agrees with this philosophy wholeheartedly, and maintains a primary goal for members of USUE men's basketball to get scouted and go on to bigger schools and organizations, the former JAZZ assistant coach is also laser-focused on the here and now and the games just around the corner.
On the subject of important games for Eastern, Fields expressed eager excitement and treats every game as a milestone " Last week was a good measuring stick for us, we had SLCC come on fan appreciation night. It was great game and a great chance for the players to feed off the energy of that crowd. Salt Lake was a test, our rival Snow was a test, as is the Idaho school this week. Each game is a measuring stick to see where we're at and what we need to do to prepare for the playoffs." If this past week's games have indeed been measuring sticks, it's safe to say that we are still very much in it to win it. We may have walked away from the games with SLCC and Snow with L's instead of W's, but we did so with heads held high. Both were high-action games where the Eagles were close to victory and improved greatly from previous encounters with the two highly touted teams,
To wrap up the new coaching situation in men's basketball, it's safe to say that the addition of assistant coach Scott Fields has been a great decision coming into 2016 and the playoffs. His positive coaching style and abundance of experience has already helped to produce great results, and if the team keeps working as hard as they have, there is nobody in the SWAC who should count us out.