Testing Center moves to Reeves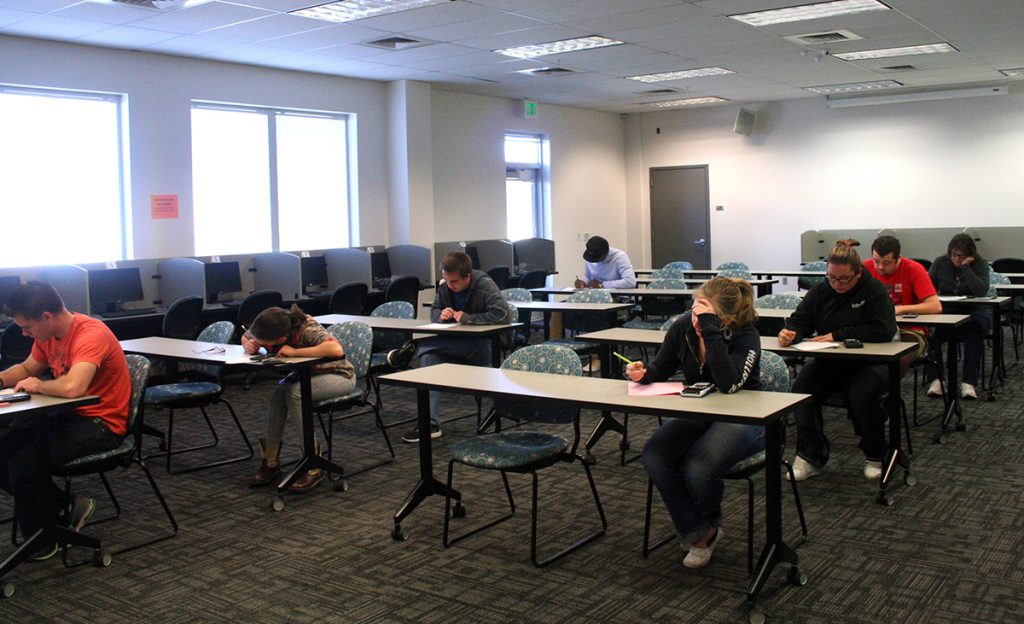 This archived article was written by: Mara Wimmar
The end of the semester is nearing with only three weeks of classes and finals week left in the academic school year. Finals week is May 2-6 and many finals will be administered in the USU Eastern Testing Center.
The Center moved over Christmas break from the old Student Activity Center (SAC) and is now located in the Reeves Building on the first floor. It is open from 8:30 a.m. to 9:30 p.m. Monday-Thursday, Friday 8:30 a.m. to 7:30 p.m. and closed weekends.
"Our hours do not change for final's week," Testing Center Director Cathrin Alaei said. "We are already open a long time."
In the new location, the testing center has more space and new furniture. There are 24 computers and hopefully more computers will be purchased. Along with a generally more spacious room, there is additional space between each computer, giving students more personal space while testing. There is also an extra testing room used for DLCs, which only Alaei can administer.
"We needed some place that was at least larger than the old room," Alaei said.
The computers in the testing center are in a lockdown browser. They are unable to access the Internet or any built in applications that could help facilitate cheating.
"Most of our computers are in lockdown browser," Alaei said. "It means they do not go to Internet Explorer or Firefox. In lockdown browser they do not have access to Internet, they cannot Google search it or they cannot open the calculator from the computer. Just USU Price and Blanding have the lockdown browser."
Along with the computers being in lock down, cameras record the room and save the feed. This allows Alaei and other school officials to go back in to the recordings if anything questionable comes up. There are also part-time proctors that stay in the testing room during testing hours to ensure students refrain from using materials that are not allowed during the tests.
"We always, almost always have one proctor sitting inside the testing area," Alaei said.
The testing center administrates all types of tests. If the professor gives an open note or open book test, those materials are allowed in the testing area. While textbooks and notes are allowed, cellphones, calculators and any device that can access the Internet needs to be left outside or somewhere it will not distract or influence cheating on tests.
As finals week approaches, students should study the course materials. Students should know what classes they are taking and have all the testing information ready. A test cannot be administered without the information about it. When coming in for testing, students should be prepared.
"Just study," Alaei said. "From the beginning of the school year, you know that you are a student, you know that you are here because you want to get a degree, to improve your life. Just study, do not leave everything for the last minute."
If students or faculty have any suggestions for improvements about the testing center they can talk to Alaei.