Coach Vando: finishes 4th year at USUE mens basketball helm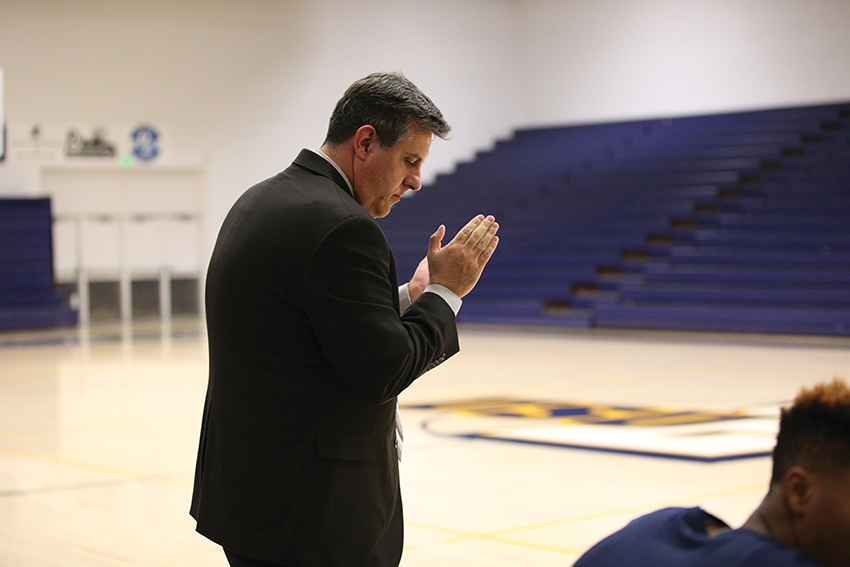 This archived article was written by: Tainá Soranzo
As Adjalma Vanderlei "Vando" Becheli Jr. finishes his fourth year as coach at Utah State University Eastern, he reflects on his 24 years in the coaching profession.
He came to Utah State University Eastern in 2008 from Brazil. At first Coach Vando was assistant coach two years of the men's team, after that, he served two years as the assistant coach of the women's team.
Vando always had the desire of coaching in the United States. He knew former Eastern Coach Chris Craig well. Craig was the one that made Vando's dream come true by asking Vando to help him in his program.
His program is going into the right
direction, Vando said. "I'm trying every year to get my program involved in the community. I know it is important for the players to have contact with the community and sense that he is representing our school and this community."
Coach Vando has a very simple philosophy, "Give the people who play for me a chance to have fun playing basketball and through basketball, prepare them to have success in life with discipline and hard work."
He said, "In a junior college level, we work with many second chance kids and my job as a coach and as an educator, put this kind of kid in a position that they can have success in life using his gifts as a basketball player plus a good student to achieve their goals and for sure be a better men in life.
"Discipline is everything. You have to have discipline in your life if you want to be a successful person. I try to show these players the importance of discipline, try to make them understand and turn them on a very disciplined person."
As a coach, Vando tries to get better every year by studying a lot, talking to other coaches and watching basketball.
Another thing he does and believes is one of the most important attributes to improve every year as a coach is he re-evaluates himself to find out where and how he can improve.
Vando tries to assist and counsel his players by helping them transfer to a four-year school. If his players ask him, he can give them his opinion and concerns but, "At the end of the day, I let them decide which school they want to go.
"I never pushed anyone to go to a certain school. I always told them that they need to go where they feel more comfortable to go."
The person that had most influence in Coach Vando's life is his grandpa. His grandpa taught him to be a good man, to like and respect people and work hard for everything he wants in life.
"You have to be a correct person and have respect and then people will listen to what you have to say," he said.
Vando is proud of himself for what he has achieved as a person, a role model and coach. He said, "My whole life, I'm trying to treat people with love and respect and not to be unfair to anyone."
Some of Coach Vando's awards are Coach of the Year in Brazil, 2004, head coach; State Champion in Brazil undefeated (32–0), head coach; Conference Champion, Utah State University Eastern, 2009-10, assistant coach; and third place in NJCAA National Tournament, 2009-10, assistant coach.