USU Eastern's Graduation 2016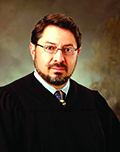 The Honorable Associate Justice of the Utah Supreme Court, Constandinos Himonas, a Price native, will be USU Eastern's 78th commencement speaker at its graduation ceremonies at 10 a.m. on Saturday, April 30, in the Bunnell-Dmitrich Athletic Center.
Chancellor Joe Peterson will present his Chancellor's Medallion, the college's highest acknowledgement of service to the university, to Brad King . . . a friend, educator, legislator and stalwart guardian of Eastern Utah.
The valedictorian and salutatorian grew up in the same neighborhood in northwest Price. Luke Olsen, son of Henning and Ilene Olsen, will serve as valedictorian and Robbie Etzel, son of Robert and Annette Leturgez Etzel, will serve as salutatorian. Both had perfect 4.0 GPAs.
Justice Himonas, or Deno, to those who grew up with him, was sworn in as the state's newest member of the Utah Supreme Court a little more than a year ago. That eventful ceremony was so dominated by family members who packed the gallery above the senate chamber that it prompted the Justice to wittingly observe: "It is truly my Big Fat Greek Confirmation proceeding."
His daughter, Katherine, calls her father, "the quintessential success story."
Himonas is a great example of the special people who make up this immigrant-rich region of Utah; those who embody hard-working, family-loving values; individuals with innate humanity, a strong sense of community and deep love of education.
He is the only child of George and Chris Himonas and grew up working on the family ranch spread across Carbon and Emery counties. He spent endless hours riding horses, driving cattle and mending fences. His mother opened a beauty shop in Price in the 1970's and they taught their son to work and study hard.
Himonas flourished in debate at Carbon High School and graduated Magna Cum Laude and Phi Beta Kappa from the University of Utah in 1986 with a bachelor's degree in economics. He received his juris doctorate degree from the University of Chicago in 1989, where, more importantly, he also met his wife Lisa. Married for more than 26 years, they are devoted to their two daughters Alexandra and Katherine.
Upon graduating from law school, Justice Himonas returned to Utah and spent 15 years working as a litigator for a Salt Lake City law firm.
In 2004 he was selected by Gov. Olene Walker to preside over the 3rd District Court where, as a trial judge for more than a decade, he oversaw thousands of cases, including more than 100 jury trials, all of which exacted his full attention.
In February 2015, Gov. Gary Herbert nominated him to the Utah Supreme Court where he was unanimously confirmed by the Utah Senate.