Valedictorian and salutatorian named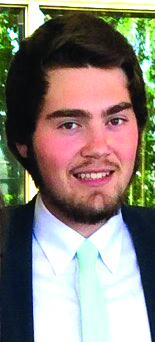 Two Carbon High School graduates will serve as valedictorian and salutatorian of USU Eastern's class of 2016 announced the vice chancellor of student services office.
Serving as valedictorian is Luke Olsen. An Eagle Scout, he enjoys sports, including basketball, Frisbee golf, volleyball, piano and ukulele. His favorite jobs have been being a beekeeper and physical therapist's assistant. He served a mission for the Church of Jesus Christ of Latter-day Saints in Samoa, is president of LDSSA and vice president of the Serving Utah's Network donating over 100 hours of service. He is pursuing a degree in pre-medicine and hopes to make and fit prosthetics for people with missing limbs.
Serving as salutatorian is Robbie Etzel. He graduated from CHS in 2014 where he received high honors.
While at Eastern, he spent two years assisting in the tax center helping the elderly and low income fill out their income tax returns.
He plans to attend the University of Utah in the fall majoring in finance with a Spanish minor and eventually earning his juris doctorate degree. Etzel enjoys the outdoors and is an avid hunter, golfer and angler.