Facebook/Faceswap results in confusion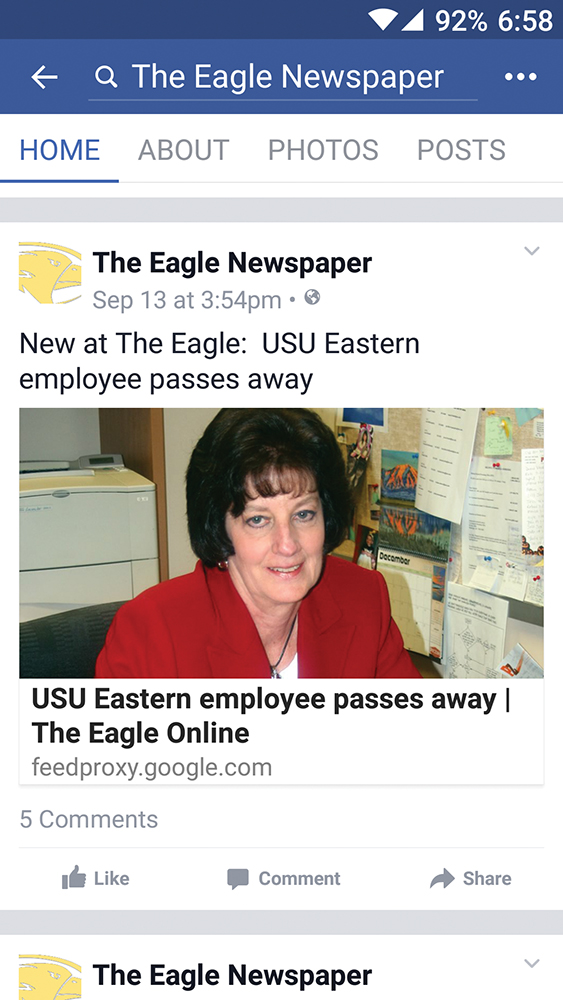 The USU Eastern Eagle webpage lit up last week when Facebook posted stories about two deaths on campus from The Eagle webpage. Nothing unusual about stories being published from The Eagle on Facebook except for the accompanying photos.
The first story was about a female employees in facilities who had died. Facebook did not post the photo of the female who died, but that of Jan Young, former director of academic records and registrar. Young retired in December 2015, is alive and happily enjoying her retirement.
Young was a little shocked to find out she had succumbed on Facebook as did many of her friends. Her husband Alan wanted to know if there were any death benefits since Jan was apparently deceased.
The other snafu was President Claude Burtenshaw's death at 98 years old. Facebook posted a photo of 19-year-old viewpoint editor Alex Holt with the Burtenshaw's story. That's only a 79-year difference in ages.
Managing editor Nathaniel Woodward hoped people would have a sense of humor with the two photos and stories. He also hopes Facebook can get this issue corrected.
Eagle posts on Facebook can be viewed @The Eagle online.