Meet Ousseynou Karbala Gueye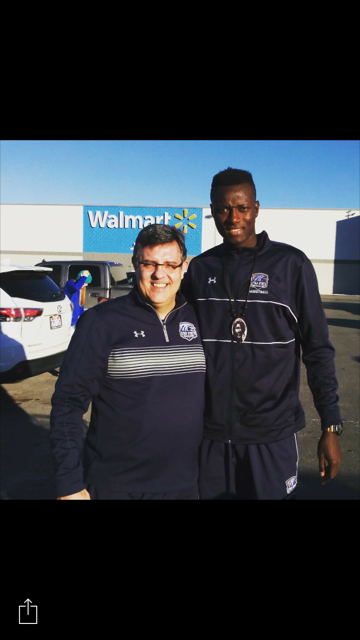 This archived article was written by: Alex Morell
Ousseynou Karbala Gueye [KG] is a 6-foot 11-inch center from Senegal, West Africa, and is a member of the Utah State University Eastern men's basketball team. He speaks WOLOF, his native language; French; English, in which he learned in six months; and can also understand Spanish and a bit of Filipino. Gueye joined the Eagles this semester as a late transfer. Although he will not be eligible to play this year, he will practice with the Eagles and will be eligible to play next semester.
Gueye is looking forward to continuing his Basketball career here that he has been pursuing since the age of 15 years old. In Senegal, most young men elect to play the nation's sport which is soccer. Gueye did what every typical young man does in his home country and play the nation's sport. At one time he thought that his dream was to one day play professional soccer.
This all changed when he started to outgrow soccer. He says, "The older and taller I got I couldn't do some of the moves that my peers were doing because I was too tall." That is when Gueye decided to give the sport of basketball a try.
After making the transition to basketball, all of Gueye ambitions changed and he decided to put all his passion and ambition into the game of basketball. He started to excel in basketball and started to grow into his body and became an X-factor on the court.
Standing at nearly 7 foot, Gueye became a defensive specialist and could block just about anything around the rim, and soon developed a love for the defensive side of the court.
He says, "Playing defense is what I love to do on the court, it's where I take the most pride. And feel that I can make my biggest contribution there for my team."
It is rare to find a guy that takes so much pride in defense and is every coach's dream to have a defensive specialist who can make a difference around the rim.
One might ask how a 7-foot-big man from West Africa could find himself in the small city of Price. Gueye says, "I was in a academy called Canarias Basketball Academy in Spain and Coach Scott [Fields] had a connection with someone in Spain that told him about me. Coach Scott contacted me and we ended up building a great relationship and I started my recruitment with him under the direction of Coach Vando [Becheli]."
Gueye has some lofty goals that he wants to achieve while being here at USU Eastern that include getting all his g eneral education credits done as well prepare himself to qualify academically for Division One basketball. His ultimate goal is to one day play at the professional level to play basketball for his profession.
Gueye is excited to be at USU Eastern and wants to make the most of his time here. If you see a big 7-foot guy walking around campus, make sure to say what's up and get to know him. As great of a basketball player as he is, he's an even better guy.