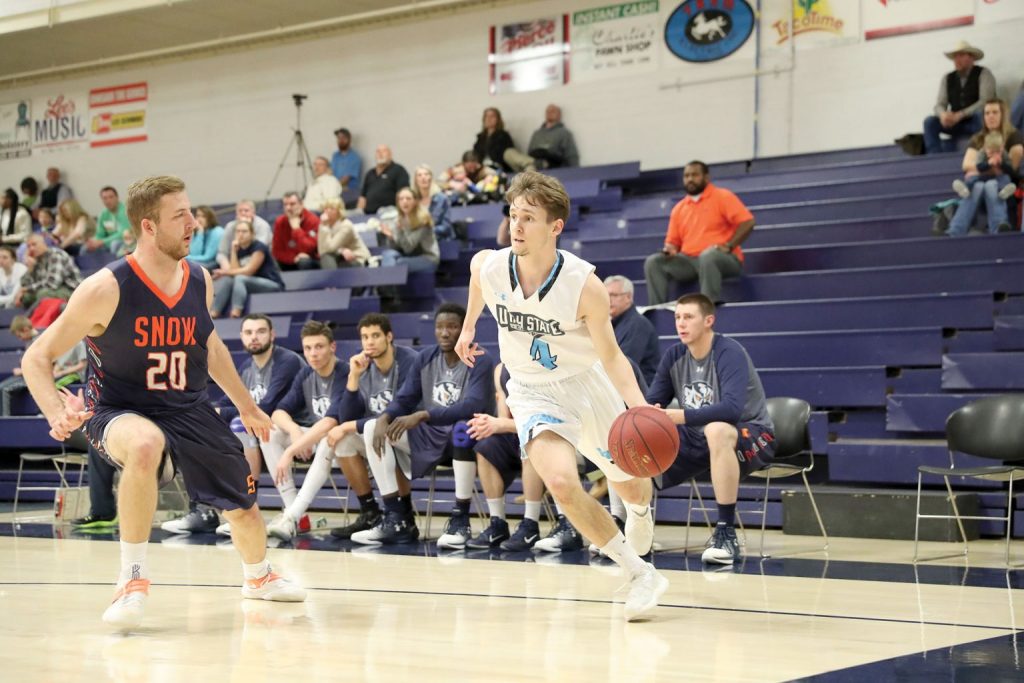 This archived article was written by: Alex Morrell
This last week I had a chance to sit down with the point guard of Utah State University Eastern, who is one of the many international students on our men's basketball team this year. He has battled through injuries and hopes to be stronger then ever for the Region tournament. I was able to ask him various questions and to have wonderful conversation with him. In this news article I want to switch it up by having a question and answer segment with Milan Surlic to help us get a better understanding of where this young man from Nis Serbia comes from and his rich culture and family values. So come with me to dig into Surlic's life.
Q: Why did you start playing ball?
A: Basketball is one of the most popular sports in Serbia, so It's kinda natural to try it as your first sport. My brother was very good, which was one more reason to try. Also, my father played basketball, but because of his elbow injury he had to stop.
Q: What do you love about basketball?
A: For me, basketball is more than just a sport because it shows a lot about our characters. It shows how hard we work for something, how dedicated we are, etc. Competition is my favorite part.
Q: How did you get started in basketball?
A: As I said my family loved basketball. My brother and dad played big role in playing Basketball.
Q: What is your favorite basketball moment?
A: Basketball really gave me a lot, so I have more than one favorite moment. Representing my country on World Basketball Championship for High Schools was one of them. Also, playing at Dick's National Tournament last year with Wasatch Academy.
Q: How long have you been playing Basketball?
A: I started playing basketball when I was 10 years old.
Q: What is your favorite part?
A: Ball movement is my favorite part by far. Seeing 5 guys working together is something that makes me enjoy.
Q: How did you end up at USU Eastern?
A: Last year I played for Wasatch Academy located in Mount Pleasant, which is very close to Price. My HS coach, Curtis Condie, knew the assistant coach at UsuE and recommended me. We scheduled my visit and saw that USU Eastern will be great place for me to improve as a person, student and basketball player.
Q: What do you plan to do after?
A: I don't like to think about future that much so I don't have clear plans about it. I only know that I would love to coach.
Q: What languages do you speak?
A: I speak Serbian and English. I was taking German and Latin for a couple years
Q: One last question for the article. Who is the person you get along with best on the team and are usually rooming/hanging with on road trips?
A: I usually hangout with Kris [Totoris] Any [Isokpehi] and typically room with one of the two as well. We just have a good time and are always laughing together, whether it's talking about sports or music. We all bring something different to the table and have a good time.
The more you get to know Milan Surlic you start to realize how humble of a man he is and just how much he truly cares for his teammates and family. He has a very gentle way of getting information across but will be quick to give you that competitor look that means game is on and he's ready to roll.
You can catch Surlic in action today as the Eagles take on Colorado Northwestern Community College in the quarterfinals of the Scenic West Athletic Conference tournament at Salt Lake Community College. The time has not been released yet but you can follow @USUEAthlectics on twitter for times and live tweets of all the action at the SWAC region 18 tournament.