Eagles' basketball recruits 10 new players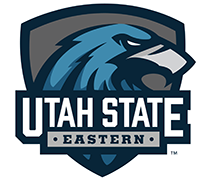 This archived article was written by: Scott Froehlich
USU Eastern's basketball organization has been busy early in the offseason, with both squads signing multiple players for next fall. For the women's team, head coach Chelsey Warburton added eight players to help fill the void that the departing sophomores left this past season, while the men added two.
The women's coaches added Brooklyn Barrus, who is a 5-foot-6-inch guard from Mountain Crest High School. In her senior season, Barrus averaged 18.7 points, 4.7 rebounds, and 1.3 steals per game.
Lindsey Blanc, a 5-foot-7 guard from Carbon High School, racked up 13.6 points, 3.7 assists, and 3.3 steals per game in her final season of high school basketball.
Abby Butler comes down from Grantsville High School and is a 5-foot-11 power forward/ center. She averaged 13.4 points, 8.8 rebounds, and 2 steals per game this past season.
Alyssa Crumley will find herself playing in a new state next season, as she was recruited out of Blackfoot, Idaho. Crumley is a 5-foot-9 power forward who averaged 18.5 points and 8.3 rebounds per game in her senior year at Snake River High School.
Morgan Hall is another Idaho transplant coming from the city of Preston. A 5-foot-9 small forward, she posted 11.7 points, 3.7 rebounds, and 3.2 steals per game at Preston High School.
The Eagles also added 6-foot-1 center Akosita Tuitupou from Cyprus High School, 5-foot-10 power forward Cadee Berrett from Bonneville High School, and 6-foot center Cheyanne Brown from Springville High School.
"Coach Nelson and I are very excited about the players returning for us and the addition of each incoming freshman.  Our team has talented players, who are also great teammates, [and are] looking forward to working with all of them," Warburton said.
As for the men's basketball team, Eagles' head coach Adjalma Becheli scouted two players from Florida who will be joining the team in the upcoming season.
"Philly Chaplin [Clearwater, Florida] is an athletic 6-foot-10, 235-pound center with a great motor. What he lacks in experience, he makes up for with incredible heart and physicality. He is a natural communicator and leader, which makes him a joy to coach.
"Reggie Moore [5-foot-11 center, Clearwater, Florida] is very quick and I've never seen someone better at getting 50/50 balls, and he is a fantastic on-ball defender for 94-feet. His quick three-point stroke and ability to create for his teammates make him a huge asset to have on the floor," Becheli said.