USU Athletic Department: Athleticism and volunteerism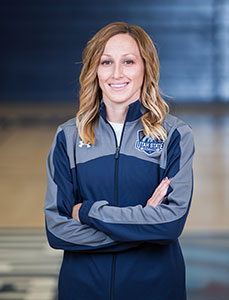 This archived article was written by: Scott Froehlich
For college student athletes, the school year can be a tedious, draining and time-consuming. Between classes and practices, studies and games, these students have scarce opportunities for social interaction. With some spending any free time they have working part-time jobs, it's a wonder that they get any sleep. However, Utah State University Eastern student athletes took time from their schedules to volunteer 5,140 in the community in 2016-17, another testament to their hard work on and off the field.
 Players from all nine USU Eastern athletic programs donated time and service to local middle schools, elementary schools and Carbon County Recreation. They were involved with flood relief and the Kiwanis Kids Day.
While there was no official competition, the Eagles' volleyball team came out on top of the pack, volunteering a total of 1,500 cumulative hours in their department. All figures aside, the real winners in this equation were recipients of the service that these great athletes delivered.
Athletic Director Chelsey Warburton, who also coaches the women's basketball team at USU Eastern, provided insight into the importance of these athletes volunteering, as well as the affect it has on the community.
"As important as it is for our student athletes to succeed on the playing field and in the classroom, it is equally, if not more, important to help and serve those in our community. When we serve others we make an impact, no matter how big or small it may seem," Warburton said.
Athletics-related notes:
 Athletic Director Chelsey Warburton started her new position on June 1 and will remain coach of the Eagles women's basketball team. Other additions: Miranda Milovich, athletic assistant; Ray Jones, assistant men's basketball coach; and Jess Brinkerhoff, athletic trainer.