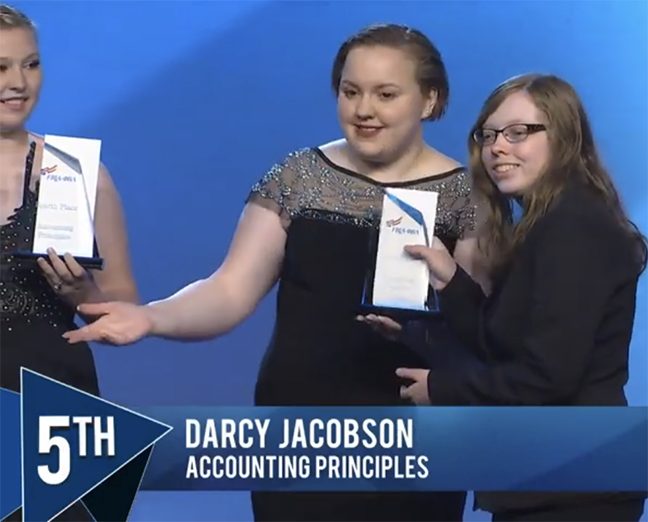 A USU Eastern Phi Beta Lambda student placed fifth in the nation at its national conference in San Antonio, Texas.
Darcy Jacobson, from Taylorsville, placed in accounting principles at the Henry B. Gonzales Center which hosted college students from throughout the United States. Besides a trophy, she was awarded $200 plus interviewed with several prospective companies.
Jacobson earned an invitation to compete in nationals by placing in five state events: she took second in cyber-security; third in retail management principles, accounting and insurance concepts; and fourth in marketing concepts.
"I had lots of emotions while competing. I took a lot of classes from Dr. Henning Olsen that helped me prepare for the competition. He covered all the accounting principles and how they work." Jacobsen said. Dr. Elaine Youngberg taught me the basics of accounting, like the things that cannot be done on a computer and that helped me a lot.
Each competitor had to answer 100 questions in one hour and were judged on each answer, is how she described he four-day competition. "It was grueling."
Jacobson earned her associate degree in 2019 and plans to graduate with her bachelor's degree in 2021 or '22. Her goal is to get a job marketing for a video-gaming company.
Describing Jacobson's work ethic, Olsen said, "Darcy possesses the unique gift to connect various dots of information to resolve accounting issues. It was a pleasure to send her to nationals to represent USUE.