Cockett's state of the university address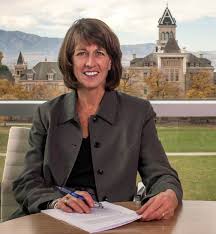 Cody Phelps managing editor
Utah State University President Noelle Cockett gave her first State of the University address to the entirety of USU on Oct 1.
If you were able, the address was given in person on the USU Logan campus and if not, the speech was broadcast to all the campuses and broadcast locations via AggieCast [aggiecast.usu.edu]. The stream was free to anyone who chose to watch it.
Once the stream started, Cockett opened her speech by thanking the Utah State management team for pushing her into giving the speech to the students, faculty and staff of Utah State University. She spoke candidly about her priorities for herself and the university moving forward.
The first priority she spoke of was about the students. She stated that the students of USU are the key to the success of Utah State. She spoke about her goals for the students, not only in classes, but in the world after they have finished their education and made their way into the workforce. The high percentage of job placement for USU students has put the school on the map for the western states, bringing Utah State into the limelight for potential students in the nearby states.
Cockett also spoke about the outreach that Utah State University has been able to provide to students because of the ability to broadcast courses to the campuses and education centers all around the state. During the presentation, a map was shown with an "A" being placed as a map marker on each of the campuses and centers in Utah with a vast majority of the state having access to one of the many A's. Utah State has the unique advantage of providing degrees to students who either can't, or don't, have the desire to move to the main campus in Logan, something most other universities can't do.
Another advantage that Cockett brought up was the ability to provide students the option to go all the way from a certification to a PhD or doctorate degree within the USU system. This might be difficult to do within one specific campus, but students would be able to transfer smoothly between the different USU campuses because of the breadth education system offered by the university.
Along with an expansive education system, USU will also be working hard to expand the potential degree and study options for students in the near future. Expanding is a major key to success. The USU Eastern campus has experienced a taste of that expansion with the new Aviation program. Cockett explained the plans to expand degrees regarding the "earth, water and air" in the near future.
The address closed out with a USU hype video showing different groups of people showing excitement about USU while giving Utah State University students reasons to be excited for the future and growth of the university and the state of post-secondary education in the state of Utah as a whole.