Tim Burton's "Big Fish" coming to USU Eastern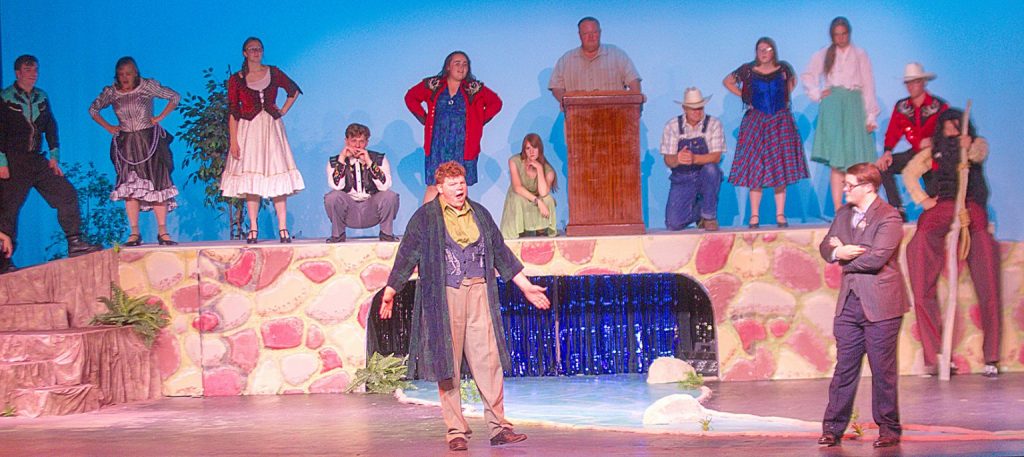 Utah State University Eastern and the Caine College of the Arts are excited to announce their first production of the 2019-2020 school year will be the musical "Big Fish." The play will run from October 3-5 and 9-12, 2019. The showtimes for each night is 7:30 p.m. inside the Geary Events Center.
The production is based off the motion picture lm by Tim Burton and the book written by Daniel Wallace. The musical version was created by John August and Andrew Lippa, author of Music and Lyrics.
"Big Fish" is a lively and spirited fantasy centered around the charismatic and larger-than-life Edward Bloom whose impossible stories of his life's epic ad- ventures frustrate his son Will. As a young married man and father to be, Will doesn't think there is any truth to his father's tales, including kissing mermaids, joining the circus, and meeting witches. With his father now on his deathbed, Will tries one more time to find the truth behind his father's tall tales and embarks on a journey to find out what really happened. Edward and Will's relationship becomes increas- ingly strained, unraveling the man from the myth – the truth from the tall tales. Will must decide to accept his father's wild stories as fact or risk losing him completely.
"People want to see things beyond their imagination and that seems to be the mantra of the show. This is a story that will appeal to anyone and everyone," said Corey Ewan,Ph.D., the show's director.
The ensemble cast features Hayden Buss, Orem, as Edward Bloom, Trinalee Hatch, Price, as Edward's wife Sandra and Stephan Ewan, Price, as Will. Ellie Cowdell, Price, has been casted as Will's wife Josephine and Sam Price will be playing Will's son. Cooper Innes, Price, will play a young Will Bloom.
Also cast in next month's play are John Behn, Toby Unsworth, Ali Huggard, Chris Vlamakis, Zach Ballard, Cheyann Needles, Kyaera Price, Tyler Price, Mathew Clement, Morgan Innes, Hunter Peterson, Shayley Cartwright, Ellie de Mie, Aubrey Jorgensen, Cecily Riley, Patrick Paulk, Bubba Smith, Alena Ballard and Rosie Wichman.
For tickets and show information please visit the theater box office online at usueastern.edu/theatre/ box-office.
Contact: Ewan, 435-613-5202 or corey.ewan@ usu.edu