The Geary Guru: Braden Nelsen
For the past 5 years, Nelsen uses period-accurate uniforms to raise awareness about WWII vets. He says their service, bravery and humility is inspiring. He hopes to preserve the nation's past through living history. Nelsen also enjoys acting in his free time.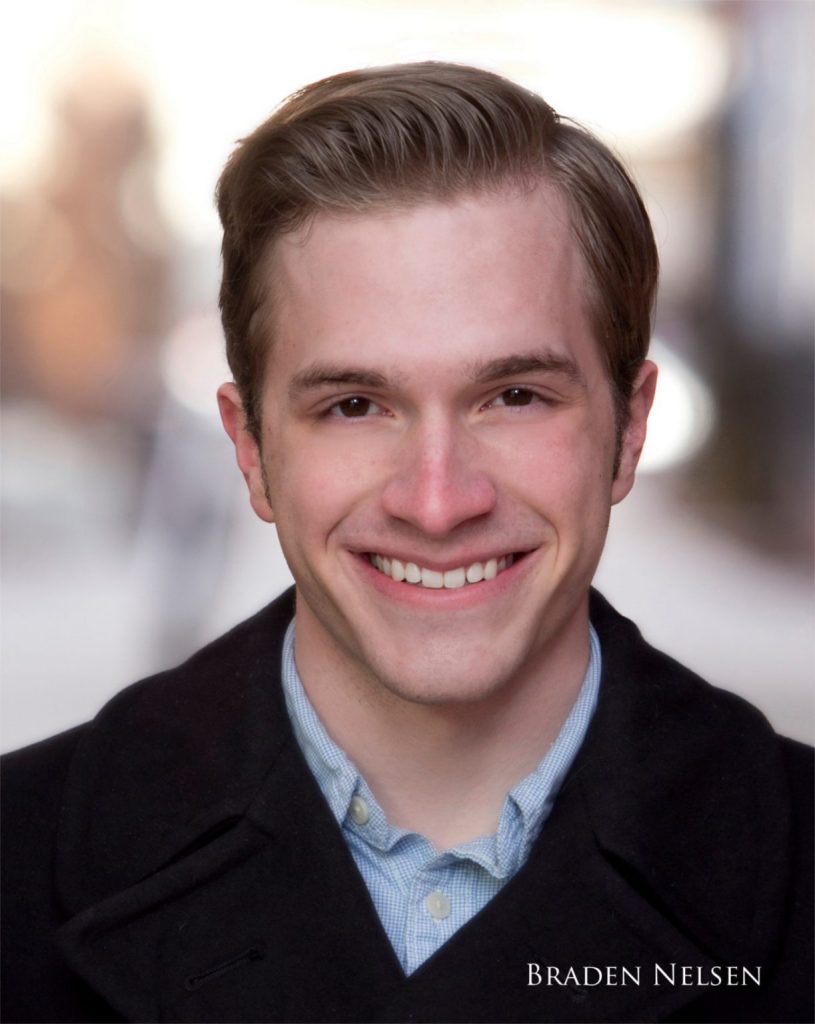 On Sept. 23, the Geary Events Center gained an extra pair of hands to help Utah State University Eastern events run smoothly. USUE graduate Braden Nelsen is now serving as the special events technical coordinator on campus, and his position enables him to bring worthwhile acts to the university stage.
Live entertainment has played a part in Nelsen's life for years. After getting his associate degree in Price, he went on to Utah Valley University and earned a bachelor's degree in theater in 2017. He spent many hours onstage performing, but spent just as many working on the audiovisual side of things.
"Both have their merits," Nelsen said. "It's fun to be on stage, but it's fun to help behind the scenes, too. Both are good."
Nelsen is unafraid to pursue his interests, and besides theater, the history of World War II plays a significant role in his life. Both of his grandfathers were war veterans, and his study of America's battles helps him to understand what they went through.
"History is like a rabbit hole," he said. "It's so fascinating and interesting once you get into it."
After years of Googling terms like "Utah war reenactment," Nelsen finally stumbled across the Utah Military History Group. The organization is committed to preserving the nation's past through living history, and Nelsen has been helping with these events for about five years. He uses period-accurate uniforms and raises awareness about WWII for people of all ages, which brings Nelsen a sense of accomplishment.
"It's really about the people," he said. "[The veterans'] service, bravery and humility is inspiring."
Besides reenacting historical events, Nelsen also enjoys acting in his free time. In November, he will be portraying a Navy serviceman in a UVU student film about WWII called "Straws," and among other roles, he wrote and starred in a film called "Ceasefire," which can be found on YouTube.
As a performer himself, Nelsen is excited to be able to be the main source of contact with many talented acts, including the three-man musical group, GENTRI, which will be coming to USUE on Nov. 21.
"I just keep thinking that this is amazing that we're getting these people," he said. "Tickets are already going fast, and we're still a month out. We're pretty excited."
Nelsen's artistic experience gives him a unique perspective as the Geary special events technical coordinator. He studied as many aspects of theater as possible in college, and as a result, he met influential people and learned important methods of the business and craft of theater.
His point of view comes in handy when communicating with other event coordinators on campus, and because of this new position on the USUE staff, Nelsen is able to help ideas become realities for the Geary Events Center. One of these new ideas is an increased presence on social media. Nelsen will be in charge of posting information that will announce upcoming performances, ticket prices and show times. There will also be #ThrowbackThursday posts that highlight historical aspects of the Geary Events Center itself.
He and his colleagues want to know what students want as well, so they are circulating a survey asking which events have the most interest, whether a multi-event pass would be preferred, if the center should invest in casual concerts conducted on a regular basis, or if an electronic newsletter would be helpful. This survey also gives students the opportunity to become a "friend of the Geary" in order to volunteer to help with events.
Nelsen believes that it is important to be open-minded when it comes to preparing for a career. Life has a lot of unexpected twists and turns, and although he is qualified for his current position, it was not a job he expected as a young theater major. Because of that, Nelsen encourages his fellow Eagles to branch out and learn new things about their interests.
"Don't shoehorn yourself in one aspect of your career," he said, "especially while working on your associate's. Find something where you can explore every facet."
Nelsen appreciates the community support during the recent production of "Big Fish" and invites students to become more involved with the events at USUE, especially through social media. The official Geary hashtag is #GEC, and the social media handles are gearyeventscenter (Instagram), GearyEventsCenter (Facebook), and Geary_Center (Twitter).