Kofi Kingston: first African-born WWE Champion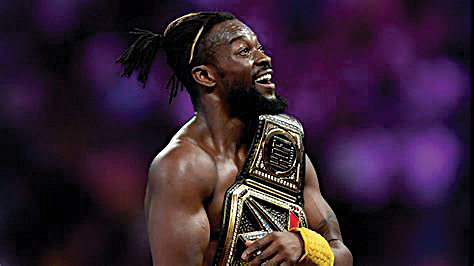 Kofi Kingston [born Kofi Nahaje Sarkodie-Mensah] is a prominent figure in the modern era of professional wrestling and media as a whole. Kingston was born in Kumasi, Ghana in August of 1981. When he was young, his family moved from West Africa to Boston, Mass.
Kofi quickly fell in love with professional wrestling, watching World Wrestling Entertainment [then World Wrestling Federation] during the golden years of the sport. This era was full of larger than life heroes like Hulk Hogan and "The Macho Man" Randy Savage. Some of whom inspired Kingston to pursue a path in the wrestling industry.
After finishing his education from Boston College, he decided to try his hand at independant wrestling, forming a jamaican gimmick under the ring name Kofi Nahaje Kingston. He worked independent shows in the Boston area until he was offered a developmental contract with the WWE in the later parts of 2006.
Kingston spent two years in the WWE developmental system for WWE, working for brands like Ohio Valley Wrestling and Florida Championship Wrestling before debuting on the main roster in 2008.
He debuted on the RAW brand after a series of vignettes highlighted his charisma and athletic abilities to excite the audience before he arrived in the arena.
During his first year on RAW, Kingston would perform the jamaican character that made him famous, including the accent and jamaican theme. That didn't end up lasting very long. By late 2010, he had dropped the accent and had started billing from his home country of Ghana.
Kingston has worked for the WWE for 14 years and has accomplished a wide array of accomplishments, including four reigns with the WWE Intercontinental Championship, three reigns with the WWE United States Championship, nine reigns as a WWE Tag Team Champion and one reign as WWE World Heavyweight Champion. He is currently in his ninth reign as Tag Team Champion alongside his New Day partner Big E Langston.
Kingston has broken many records in WWE, including the longest reign of all time with the WWE Tag Team Championships, but his biggest record breaking experience took place at Wrestlemania 35. Last year's event saw Kingston take on four-time WWE World Champion Daniel Bryan for the biggest prize in the game.
After a vicious and tension filled encounter, Kingston would hit his signature kick, the "Trouble in Paradise," to secure the victory and become the first African-born WWE champion in history. This moment was widely regarded as the feel good moment of the year.
He held on to that title until October when he was defeated by Brock Lesnar in the main event of the Smackdown premiere on FOX television.
With Kingston being in his prime, he has many years left to offer to the WWE and his accolades will continue to grow. When he is ready to step away from the ring, a hall of fame induction is sure to be awaiting him.