Basketball opens conference play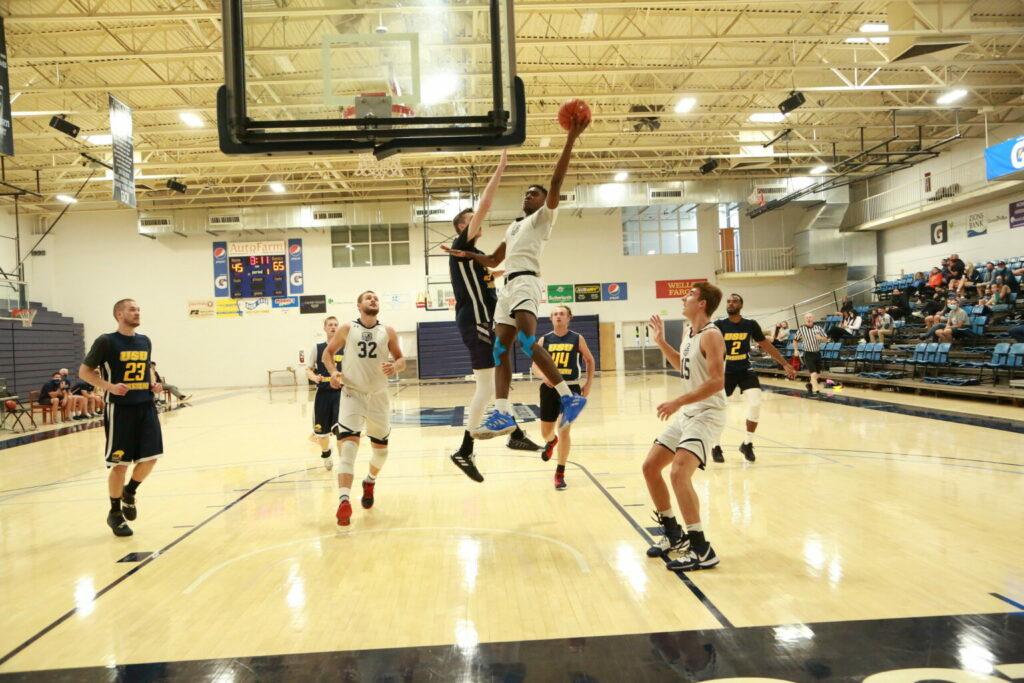 Eastern' mens basketball Scenic West Athletic Conference play kicked off Feb. 8, against. Colorado Northwestern Community College (score not available at press time). After a disappointing 14-16 record last year, The Eagles enter this season after an impressive preseason; 7-0 while shooting 56% from the field deserves discussion.
From head coach Bill Evans's first season, potential breakout players, conference talk and the toughest parts of their schedule, this is what fans need to know about the Eagles heading into the season.
The Eagles entered the game with momentum as they went 7-0 in preseason before Tuesday's game. Being his first year in Price, Evans is no stranger to the college basketball scene. This season will be his 23rd year as a head coach (36 total), with stints at Southern Utah from 1991-2007, going 208-223 (.483) in the process and in 2001 clinching a spot in the NCAA March Madness Tournament after a 25-6 season. Evans coached in Pocatello, Idaho, at Idaho State University, going 70-141 (.332) and in 2016, he won the Big Sky Coach of the Year award.
The big question for The Eagles this season is: how will they play in Region 18? Region 18 is competitive with three teams in Week 3 Top 25 of the National Junior College Athletic Association poll (Snow 25, CSI 18, and SLCC 3). USUE looks to compete within the region in many different ways: one is shooting.
Eastern has many key shooters to watch this season. Point guard Jesse White (freshman) is one of them. Jesse is a two-star recruit out of Sam Barlow High School, in Gresham, Oregon. While attending high school, White averaged 31 points per game while shooting 51% from the field. White was USUE's leading scorer throughout the preseason averaging 13 points per game.
Peyton Faslev is another shooter to look for this season. Faslev shot lights out during the preseason as he made 21 of 37 threes in seven games averaging three 3s a game while shooting 56% from the field.
Defensively is where the Eagles could be tested. Returning redshirt sophomore Velijko Illic (6'10") is a crucial player to watch for the Eagles defensively as well with Donaval Avila Jr (6' 3"), who averaged two steals per game throughout the preseason.
"I'd say it's the most talented we've been in 10 years." Said Assistant coach Thomas Salmon. "With Coach Evans 22 years plus at the D1 level, it's a no brainer for some of these kids if they have to go JUCO to come to play for a guy like him."
Coach Evans' experience played a significant role in landing these recruits. Team chemistry also seems to be clicking. "We're a pretty balanced team. Our guys do a lot of things well, but they're a really unselfish group of guys," said assistant coach Easton Ralphs.
The Eagles schedule this year is a conference-only schedule. The preseason favorite for region 18 is Salt Lake Community, who last season didn't lose a conference game and is entering the season ranked seven but is now ranked 3rd. CSI is another team The Eagles will be competing with this year as they are currently ranked 18, along with Snow (25).
Although the competition is tough, the Eagle's main goal is to compete. "We've had some big-name schools in our conference, and think this could be the year we hit some of these teams in the mouth and show them that we're no longer settling for the back of the pack," said Coach Salmon. The Eagles record the last five years is 78-77.
The Eagle's week began against CNCC and against rival Snow College.