2021 USU Eastern student art show work accepted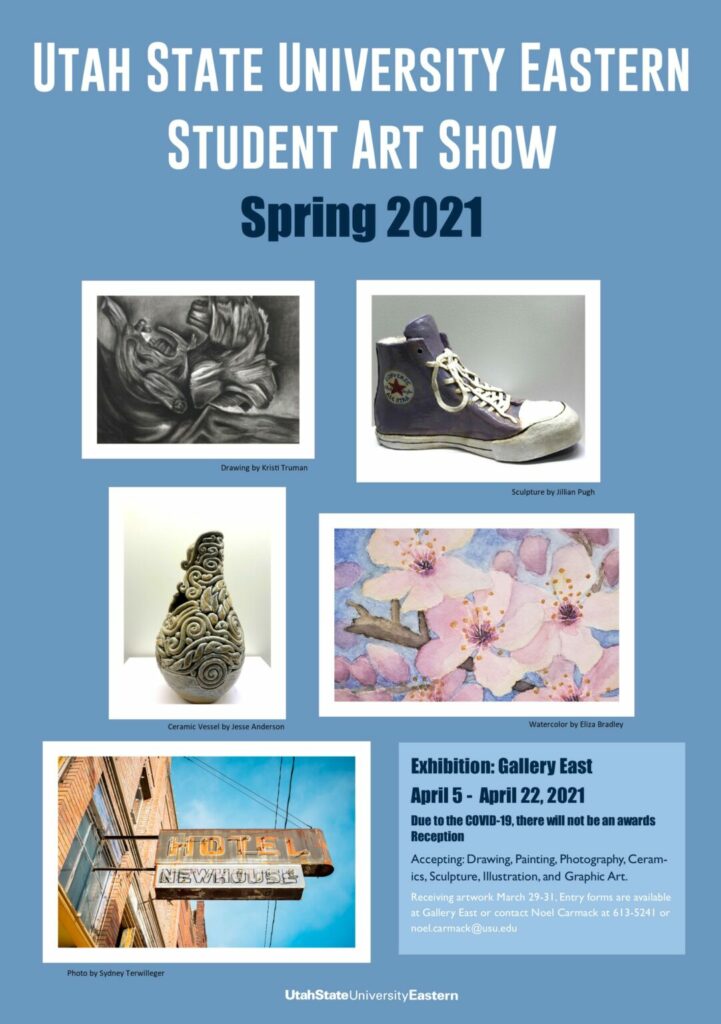 Utah State University Eastern's annual exhibit is accepting work from Eastern students and in all art forms. Both two- and three-dimensional works will be accepted, including oil painting, drawing, graphic arts, sculpture, printmaking, photography, and ceramics.
"Entries should be equipped with a wire or some way to display them," said gallery director Noel Carmack. "We would like to see as many noteworthy pieces entered in the show as possible."
Awards will be given for the most deserving entries. Winning entries receive cash equivalent awards. Entry forms are available at the Gallery. Entries can be taken to the gallery from March 29-March 31, 9-5.
"We always have outstanding students show in all areas: Drawing and painting, photography, sculpture, and ceramics. Work in this year's show is as impressive as always," Carmack said.
The student art show will be on display at Gallery East from April 5 through April 22, 2021. Due to COVID-19 precautions, there will not be an awards ceremony this year. Winners will be notified individually.
Gallery East's Spring 2021 hours are:
Monday through Friday 9 a.m. – 5 p.m.
Closed Saturdays, Sundays, and Holidays
If you have any questions, contact Noel Carmack at 435-613-5241 or by email at [email protected]; or Christopher Kanyusik at 435-613-5203 or by email at [email protected].
Student works accepted in:
• oil painting
• drawing
• graphic arts
• printmaking
• photography
• ceramics
• sculpture