Young voices fill Geary Event Center in song and laughter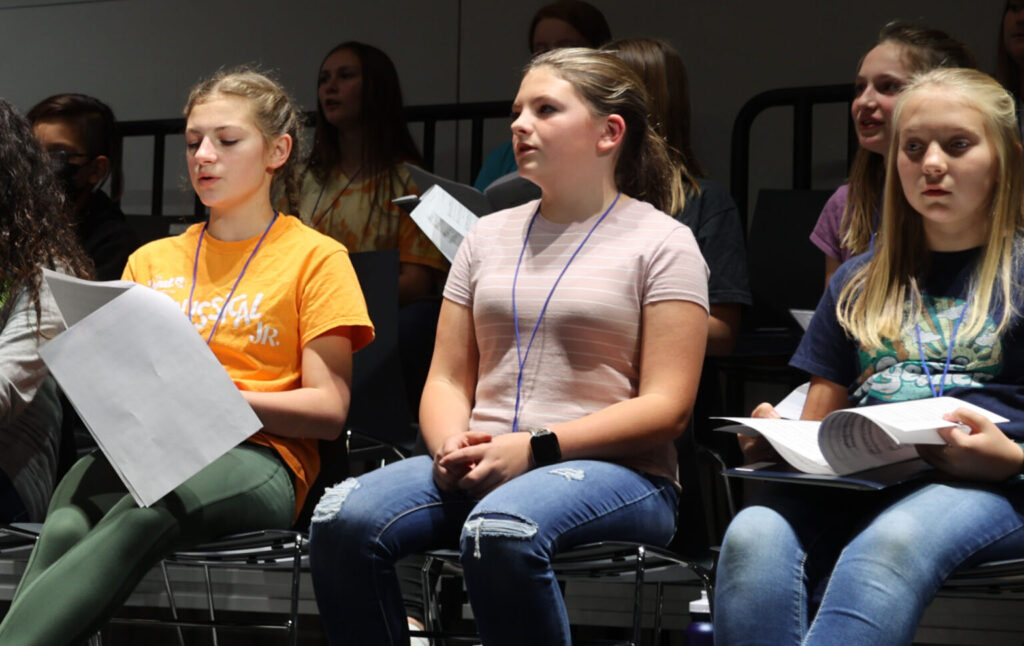 High school and middle school students gathered at USU Eastern's third Honor Choir Festival last week to deepen their love of music, connect with new people, make friends, and perform after two days of hard work.
Middle school students from Vernal, San Rafael, Helper, and Mont Harmon were led by guest director Brett Taylor from Mountain View High School. The high school honor choir included singers from Monticello, Richfield and Carbon High Schools and was led by Dr. Cory Evans, director of choral activities and associate professor of music at Utah State's Logan campus. The choirs performed concerts on Saturday to end the festival.
"When I was in middle school and high school, I got to go to honor choir festivals," says Larry Martin, music lecturer at USU Eastern and organizer of the event. "It was so much fun and helped me develop a deeper love of music. The opportunity to sing with other people, make new friends, and work with a different director was a great experience. I wanted to offer that experience to middle school and high school students."
The annual event began in 2018, but was cancelled in 2020 due to COVID-19 restrictions. This was the third year schools were invited.
Directors chose five songs, which were given out in advance to each school so that the guest directors could teach the children songs that were familiar.
"The goal is that kids will practice at home by using the learning aids and music tracks provided," Martin says. "It's a lot of singing, but the students enjoy it. It's fun for them to work with somebody new, learn new things in a new way, and it's fun to have the kids come back and be excited about music again."
Before the concert, USU Eastern's Chamber Choir performed for an exclusive audience of the Honor Choir participants.
The Middle School Honor Choir performed first at Saturday's concert. Taylor had an excellent rapport with the students. Well-timed jokes and haikus written by students brought a comedic lightness between songs.
"I think these types of events are pivotal for a young singer," Taylor says. "The experience to interact with students from other schools in a communal, collaborative, non-competitive environment. The middle school kids were so energetic and fun to work with. We laughed, we cried, we danced, we sang. It was a blast. Many of them come from schools with small choirs, so it was a treat for them to participate in a larger choir. I was pleased to see them interacting and making friends with kids from other schools and building each other up."
The high school choirs' performance was upbeat, full of drums, bass guitar, student solos, and paid special tribute to military veterans.
"My students enjoy working hard for a final performance with other students that love to sing," says Steve Hoyt, choir director at Mont Harmon Middle School. "They gain pride in their accomplishment of a job well done and get to share their talent with all of us who see their performance."
"When I was a high school choir director, it was always fun to come back and see the energy the kids bring with them," Martin says. "Even though this event is hard work, the outcome is very much enjoyable. I love the opportunity to meet new students, see them perform, and to see what comes of two days of practice. It's amazing how great they sound in just two days."
"I was really impressed with the hosting of the event by Larry Martin and USU Eastern," Taylor says. "Everything was well communicated, organized, and executed. The facilities at the university are top notch."
The Honor Choir will return to USU Eastern again next year. USU Eastern's Concert and Chamber Choirs will be performing in the Festival of Carols on Dec. 9. The community choir will be performing four choruses from G.F. Handel's Messiah at the Festival of Carols. The event is from 7:30-9 pm at the Geary Events Center. Tickets are $5 for adults and $1 for USU students and children under 18.