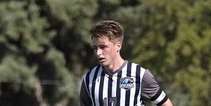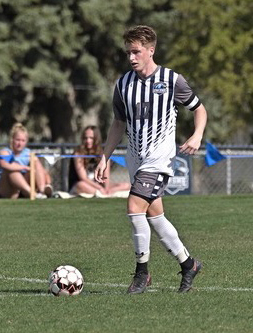 Soccer teammates Parker Huff and CJ Wiggins repelled from a bridge in Helper one day. The bridge was sketchy and they were scared out of their minds, but the sophomores made it safely to the ground.
"It is an experience we will both never forget," Wiggins says.
The stunt was more than a whim, it proved to be an exercise in trust among close friends, an ingredient that exemplifies the Utah State Eastern Men's soccer team this season. Sophomore and midfielder David Gaspar says that he and Huff know each other so well that they use their instincts to work together on the field with little verbal communication.
This is Huff's third year on the USUE men's soccer team and he says this team is the most hard-working and supportive on and off the field. Last year the team didn't make the playoffs, but this year they are 7-5 overall and fighting for the No. 3 spot in the upcoming tourney. The Eagles close out the regular season Saturday at home against College of Southern Nevada. The game starts at 11 a.m. at Castleview Hospital Soccer Field.
Born in San Antonio, Texas, Huff moved to Northern Utah when he was eight years old. He grew up with three older sisters and parents Cary and Michelle Huff, who are his best friends. His childhood was filled with the outdoors, sports and more vacations than he can count on one hand. He is still known to be found primarily outdoors. Among his favorite activities are frisbee golf, camping, golfing and, of course, repelling and spending time with friends.
Huff, No. 17, is a 2017 graduate of Fremont High School. He played high school soccer and golf before coming to USUE. He has played very well this year, scoring 10 goals, but says he couldn't have done it without the help and support of his teammates. He also credits the coaching staff for the team's improvement.
Huff has enjoyed Utah State Eastern for more than just his time with the soccer team. He loves the memories and friendships he has made here that will last a lifetime.
Sophomore teammate Jackson Barney and Huff aren't roommates, but Huff never fails to make Barney's room his home, Barney says. Huff carried an old plastic water bottle each time he walked into Barney's room. Barney once made the mistake of throwing it away and Huff gave him a look "like I just told him Santa Clause isn't real," Barney says. After the incident, Huff was convinced to buy a Hydro Flask and stop carrying around crappy plastic water bottles.
Huff studies international business/information systems. He plans to minor in Mandarin Chinese and wants to study abroad in China or Taiwan. He would return to complete a master's degree in international business. He hopes to have a career helping companies expand into foreign countries, and helping foreign companies expand into the United States.
Goals, and not just soccer goals, are a big thing for Huff and there are many that he hopes to accomplish. The advice he would give to his younger self: Have fun and don't get caught up in things that will waste your time and stop you from achieving your goals.