Women's Basketball season in review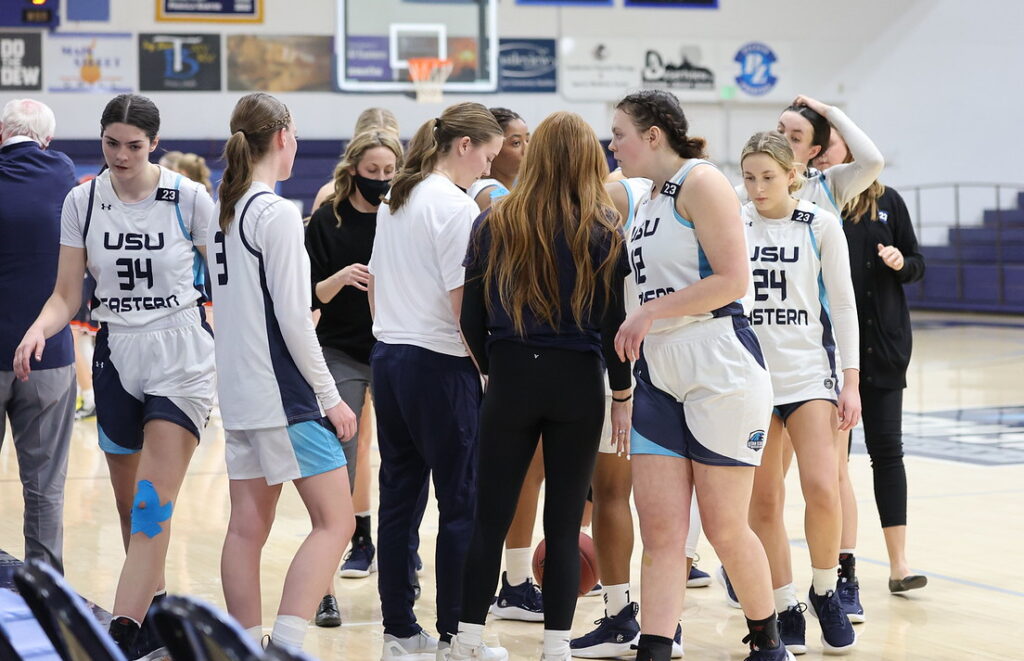 The 2021-2022 women's basketball season came to an end over the weekend. The Eagles finished with a 16-14 record, 11-7 in conference play.
It was a season of ups-and-downs and twists-and-turns, one that saw many challenges and triumphs.
The Call of Unity
Tragedy struck before the first game when Kacelyn Toomer, sophomore guard from Orangeville, Utah, suffered a season-ending injury. She scored 13 points per game a season ago and was to be a key piece to the Eagle's success alongside her twin sister Kinlee.
A call of unity was given by Coach Chelsey Warburton, and the Utah State Eastern athletic department to support Toomer in her recovery. Throughout the 2021-2022 season, the women wore patches with the number 23 on their left shoulders to honor Kacelyn. On January 20, Utah State Eastern hosted a pack the BDAC event where fans were able to purchase a stuffed eagle. Proceeds went to Toomer and her family to help with her recovery and the hospital bills.
The unfortunate event led to a call of unity, that led to a greater sense of unity within the community and the basketball team itself.
"I am extremely proud of the way these girls played this season," Warburton said. "We went through a lot of difficult times this season, and our girls continued to fight. I could not be more proud of them."
The Rise of the Eagles
The season did not end with a conference championship, but there are many great things to be said about the Eastern women's basketball team. The Eagles were one of two teams to beat every other team in the Region 18 Conference (the other being College of Southern Idaho). The Eagles emerged victorious over the College of Southern Idaho Golden Eagles on Feb. 2 to ensure a season with victories over every conference foe.
Bright spots emerged from individual players as well as Kinlee Toomer, Ella Bradley and Brooklyn Palmer grew to be the leaders of the Eagles team. Toomer led the Eagles in scoring and assists with 13.1 points per game and 4.4 assists per game. Bradley was the second leading scorer with 12.5 points per game, while Palmer led the team with 7.4 rebounds per game.
Post-season awards have been distributed, and three Eagles received all-region honors. Toomer received first-team honors, Bradley was named to the second team and Palmer was all-region honorable mention.