USUE Softball sweeps Southern Nevada, looks ahead to SLCC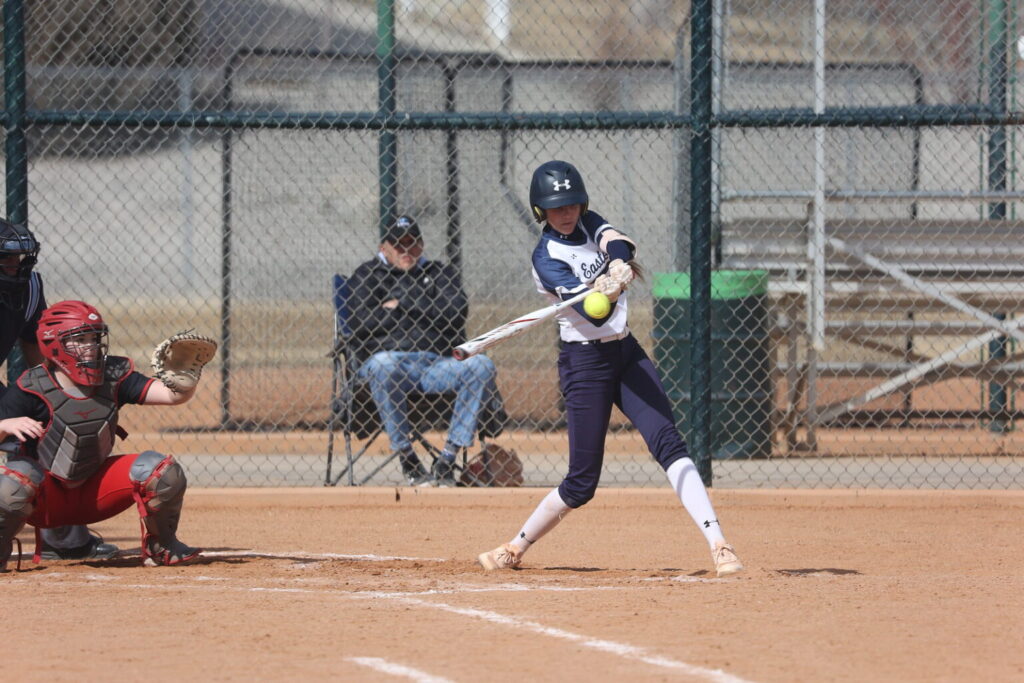 The Utah State Eastern softball team earned their second sweep of the season after Southern
Nevada came to town over the weekend.
On Friday, April 1, Eastern emerged victorious over the Coyotes, 14-6 and 10-7.
In game one, Emma Marchant got the win in the circle, throwing five innings with three runs on
five hits and three strikeouts. Oakley Giacoletto appeared in relief for the Eagles throwing the
sixth and seventh innings. She allowed three runs on three hits and three walks.
Kalsey Lopes led the Eagles at the plate with a perfect 4-for-4day that included four runs batted
in and a home run. Ally Oyanguren and Avery Nelson also tallied multi-RBI games for Eastern.
Oyanguren had two RBI and Nelson had three to lead the Eagles to the 14-6 victory.
In game two, the Eagles emerged victorious 10-7 as Sydney Smith got the win in the circle for
USU Eastern. Smith threw four innings and allowed seven runs (six earned) on seven hits and
two walks. Smith had five strikeouts in her four innings of work.
Malorie Luck came into the game in relief to throw the fifth and sixth innings. Luck threw two-
scoreless innings with one hit allowed. Marchant also made an appearance to close out game
two. Marchant faced three batters and retired all three in order to secure the win. Lopes and
Oyanguren continued their hot streaks in game two. Lopes stayed perfect with a 3-for-3 day
and two runs batted in. Oyanguren went 1-3 with three runs batted in. Marissa Bowman made
her mark known in game two with a 3-4 day and four runs batted in.
The next day, Eastern completed the sweep of the Coyotes, with 10-7 and 8-4 victories
In game three, Oyanguren, Lopes and Bowman continued their onslaught of production as the
three Eagles were responsible for driving in all ten Eastern runs. Oyanguren went 3-3 with two
runs batted in. Lopes went 2-4 with three runs batted in. Finally, Bowman went 2-2 with five
runs batted in. Lopes and Bowman also homered to help aid the Eastern bats. Madie Luck
started the game in the circle for the Eagles. Luck threw four innings and allowed six runs (five
earned) on four hits and five walks. Luck also was able to record three strikeouts in her four
innings. Marchant once again appeared for Eastern as she closed out the final three innings of
the game. Marchant allowed just one run on four hits as the Eagles escaped with a 10-7 victory.
Game four marked the lone game in the series in which the Eagles did not score more than ten
runs. The Eagles, however, walked away with a sweep-clinching victory by a score of 8-4.
Marchant was given her second start of the series, but managed to toss two innings before
being relieved by Smith. Marchant gave up just one run on two hits in her two innings of work.
Smith tossed the completion of the game and kept the Coyotes under control. Smith allowed
three runs on five hits. She also accounted for three strikeouts and two walks.
The Eagles, with a record of 13-17, 10-10 in conference play, look forward to a four-game series
against the Salt Lake Community College Bruins.
"This is a big series for us," head coach Shelby Shurtliff said. "We needed the momentum going
into the SLCC series because we can put ourselves in a position for a top spot in the
conference."
The first pitch will be thrown Friday at 1 p.m. at the Carbon County Fairgrounds. Saturday's
double-header starts at noon.