2022 Student Body President Bryson Pugh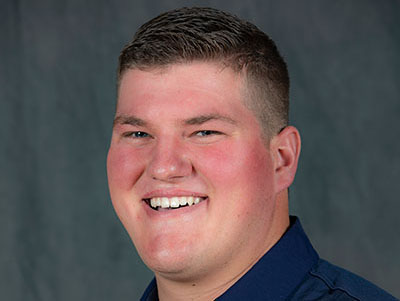 Bryson Pugh will be the last student body president to deliver a speech at graduation ceremonies.
In years past, the USU Logan main campus and USU Eastern were under different leadership. This year,
students in Price voted to make changes to the USUSA Constitution that combined the two leaderships
into one government that now represents all campuses and students statewide.
USUE elected Sofie Crompton to be the eastern region vice president.
Pugh, a sophomore, was raised in the small town of Bluebell, Utah (Pop. 236) between Provo and
Vernal. He's the seventh of his siblings to attend USU Eastern.
He's literally been a big man on campus. During Pugh's freshman year, he went to work in the service of
his fellow students and community. He got involved as the vice president of the Serving Utah Network
(SUN) Center, where he partnered with the campus community to plan and execute service projects.
While still in his first year of college, he was elected president and has supported USU Eastern's student
events, organizations and community college athletic teams. He has advanced initiatives related to
mental health, safety and equity on campus.
He set a productive precedent of collaboration with USU student leaders from around the state and
meaningfully contributed to the Utah State University Student Association (USUSA), statewide executive
council and Utah Student Association, a committee of Utah student body presidents.
He has advocated for and elevated concerns of USU Eastern's statewide students and assisted in
optimizing many USUSA policies.
Pugh is studying biology and plans to become a doctor of veterinary medicine. He loves rural
communities, and he hopes to return to his hometown to expand medical resources.