Bright Lights on Eastern Faculty
Jason Olsen, associate professor of English at Utah State University Eastern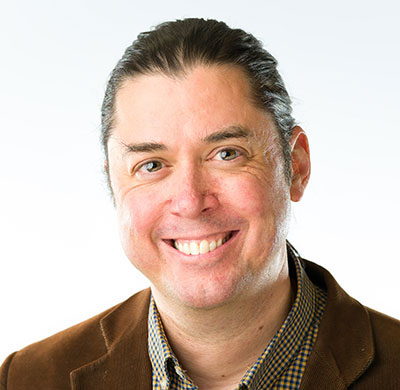 Jason Olsen, associate professor of English at Utah State University Eastern, has taught for fourteen years, is the father of two children, and is the author of the "Choose you own adventure" poetry book Parakeet, and Mark Gruenwald and the Star Spangled Symbolism of Captain America, 1985–1995. Olsen has spent his whole life reading and writing, from reading comics with his grandfather to pursuing his passion in poetry. He hasn't relented in his personal life either, always spending time with his wife and kids and playing Nintendo games with his family.
"I grew up in LA, but my family moved to Vegas when I was fourteen…" Olsen says. "Moving around the country has impacted my writing by introducing me to different locales and people."
Living around the country throughout his life, Olsen has picked up a variety of skills and been exposed to a diverse number of people. Going from living in Las Vegas, to Washington state, then all the way out to Michigan, Olsen did a somewhat clockwise circuit of the country before finally settling down in Utah.
Olsen began reading at a young age. He would walk down to the store and pick up Captain America comics, then share and read them with his grandpa. At the time, it was just a way for them to bond. However, as his life went on, Olsen realized he had a love for the character and the way it impacted his life.
These experiences are part of what prompted his latest book, which is a study on Captain America and the head author of his comics from 1985-1995. During this time, Captain America was able to grow as a character and explore and dissect many more ideologies and hear diverse points of view that weren't heard during his "punching Nazis" era.
"I write a lot. I read a lot. That's about all there is to me," said Olsen.
Despite that, Olsen has still made appearances on The Captain America Fans Podcast and teaches a plethora of writing classes around the campus. Ranging from Introductory English to Graphic Novel and Comic Design, Olsen is there to instruct both fledgling and experienced writers. He is currently teaching Fiction Writing, his fall class, and will be teaching Poetry in the spring. However a student may need help in writing or English, Olsen is always happy to lend a hand.
"Jason is a really collaborative instructor," Cody Phelps, a former student, said. "He's very good at working with you throughout the whole process of whatever you're doing. I took extensive writing classes from him, which could have been really frustrating if he hadn't been so willing to help out."
On Tuesday, September 13 at 6pm, Olsen will be hosting a book talk in the Library and Learning Commons discussing his most recent publication, Mark Gruenwald and the Star Spangled Symbolism of Captain America, 1985–1995. Additionally, he will be at FanX this year, hosting a panel to discuss the same book. He is currently working on a writing textbook called Intersecting Genres, which is expected to release in the summer of 2023.