Haley McUne: NJCAA and AVCA All-American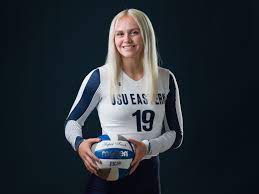 For the fourth straight season, the Utah State University Eastern women's volleyball team has an All-American. Haley McUne, a freshman from Smithfield, Utah, was named an All-American by the National Junior College Athletic Association (NJCAA) and the American Volleyball Coaches Association (AVCA).
In 2019, Kiara Richardson started a streak of four-straight seasons with a USU Eastern All-American. Rachel West (2021) and Emma Ricks (2022) preceded McUne in earning the prestigious athletic award.
"Having consecutive All-Americans is a good indicator of the hard work and high level talent we look for as we recruit," said head coach Danielle Jensen. "Haley was such a big part of our success this year as a six rotation player. Her court IQ both on offense and defense has been so fun to watch and led to her success and All-American status."
McUne finished the season as a first team All-Conference player and a second team All-American. McUne finished atop multiple Scenic West Athletic Conference (SWAC) statistical categories. The freshman finished with 403 kills on the year, good for first in the SWAC and 18th in the NJCAA. Her 3.15 kills per set placed her second in the SWAC and 33rd in the NJCAA.
McUne also finished first in the SWAC in service aces (68), service aces per set (0.53), total points scored (505), and total points per set (3.9). McUne also finished top 20 nationally in the same categories.
McUne's teammates and coaches pointed to her leadership on and off the court as a major contribution to the team's success. "She was very smart on the court," said sophomore teammate Emma Christensen. "I learned so much from her playing style this year. She has a very high volleyball IQ and is so fun to play with."
McUne played an important role on an Eastern volleyball team that finished the season No. 8 in the NJCAA final rankings. Their season ended with a 26-9 overall record and a loss in the NJCAA championship tournament.
"If I had been put on most any other team," said McUne. "I would not be reaching any previous goals I've set for myself; that's what made my team special. My teammates are my everything, and they've become my family. I'm eternally grateful for choosing to play at USU Eastern where I got to meet my new lifelong friends who helped me achieve my goals."