Provo Artist Ike Bushman Shows His Brightly-Colored Visions at Gallery East
The forthcoming exhibition, Ike Bushman: Past/Future – Future/Past, features the work of Provo artist Ike Bushman in USU Eastern's Gallery East, showing from January 28 – February 24.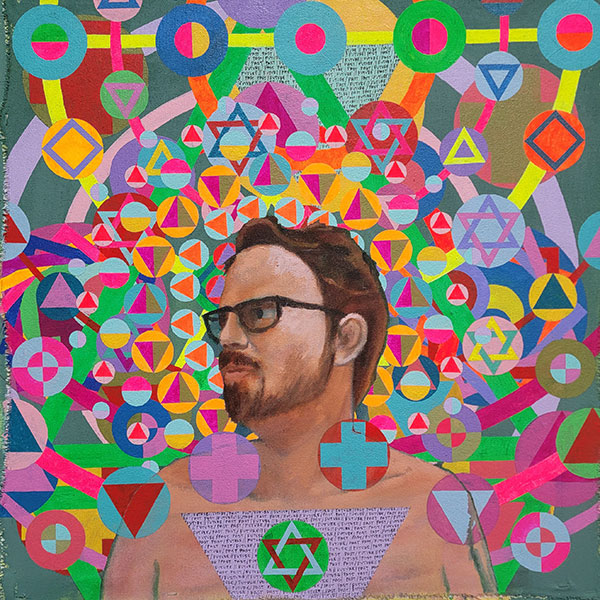 Bushman works out of his studio in Provo's Startup District. He earned a BFA in printmaking from Utah State University and an MFA in printmaking and painting from the University of Alberta. He taught drawing and painting classes at USU Eastern during the 2019-20 academic year while a faculty member was on sabbatical leave.
Bushman continually reinvents himself with the changes and phases of his life, using new approaches and tactile, expressive media. His mixed media paintings harken back to abstract expressionists such as Antoni Tàpies, Paul Klee, William Paul Morehouse, and Allen Simon. Bushman often uses unconventional painting supports such as linoleum floor coverings, blankets, window shutters, and even article clothing like suits and dresses.
Aside from the brightly colored paint and geometric patterns, the unusual materials on which they are painted don't seem to be so much for shock value but a symbolic component of the emotive quality or message being conveyed. When he incorporates lines of text, it evokes private thoughts or emotions—sometimes from moments of desperation—we can all relate to.
His brightly colored geometric patterns remind us of routines and rituals—some from our past, others we transition to—that are the rhythms of our lives. The human forms and accompanying religious symbols suggest emotional relationships, religious worship, and spiritual ties that are part of life's patterns. Sometimes these rhythmic patterns are consistent and others are broken. The colors and shapes are open to the viewer's interpretation.
Bushman will be at Gallery East for a reception and gallery talk on Friday, February 24, from 6-8 p.m. Students, faculty, staff and the public are invited. The gallery is located in the Central Instruction Building.
The gallery is free and open to the public during the academic year.
Gallery East's Spring 2023 hours are Monday through Friday 9:00 a.m. – 5:00 p.m.
Closed weekends, and holidays.
If you have any questions, contact Noel Carmack at 435-613-5241 or by email at [email protected].