USU Welders continue to break national records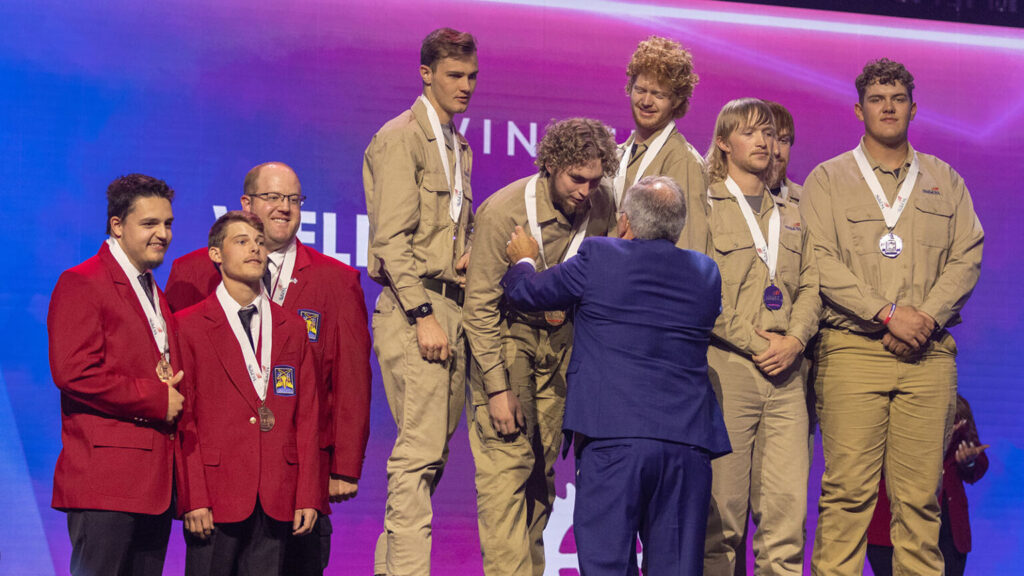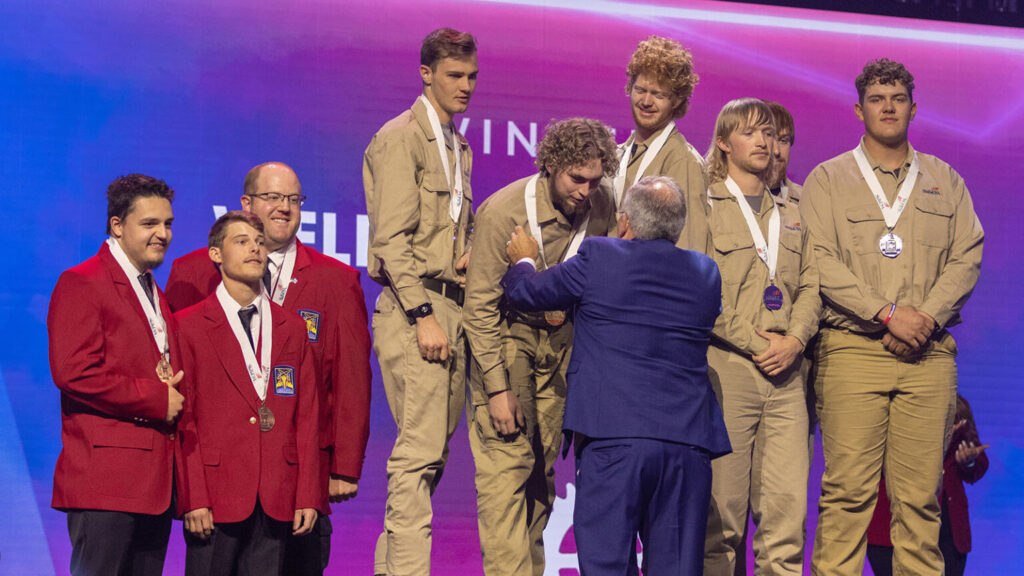 The USU Eastern welding team received their awards at the National SkillsUSA competition in Atlanta, Georgia. (Photo credit: Jake Clement)
Local, state, national and international records continue being broken by Utah State University's welding students as they recently followed up their October 2022 WorldSkills bronze medal by recently sweeping both the Welding and Welding Fabrication contests at the SkillsUSA National Leadership and Skills Conference (NLSC) in Atlanta, Georgia in June.
This is the first time that both the individual contestant and fabrication team have won first place overall in their respective categories at a national event since 2008, said an elated Austin Welch, associate professor of welding.
Wyatt Hansen (Roosevelt) placed first overall in the individual welding contest. He was required to weld and cut individual projects using the GMAW, FCAW, SMAW, GTAW and OFC processes under a strict-time limit. He was also given a written weld inspection test.
Hansen's projects, which were made available for contest onlookers to view after judging, were so impressive that they literally gathered a crowd of admirers at the Georgia World Congress Center. Someone even asked Hansen to take a picture together.
His gold medal is Eastern's first since Mason Winters won the contest in 2008. Winters went on to become an assistant professor of welding at Eastern for several years.
Eastern students have medaled several times in the national contest since Winter's first place win. The most recent finish by an Eastern student was in 2019 where he earned a bronze medal. According to Welch, "The nature of the contest and large number of contestants make the contest extremely challenging."
The team of Kenny Bell (Salt Lake City), Dallin Cardon (Price), and Noah Vergara (Eagle Mountain) placed first overall in the Welding Fabrication contest.
USU Eastern students have won this contest four times in the last five years (not counting 2020, as all SkillsUSA events nationwide were canceled.) Welch commented, "After months of hard work and dedicated practice, the students all got the results they deserved."
The fabrication team had 6 ½ hours to build a charcoal grill from provided prints and materials using the GMAW, GTAW and OFC processes. The team is judged not only on weld quality, but also on fabrication skill, print conformity, teamwork and safety.
The nature of this year's project theme plus the difficult-to-read project prints, made this year's contest extremely difficult. Eastern continues to build an unrivaled legacy in the contest, as the finish marked Eastern's 8th win and 11th medal in Welding Fabrication.
"Those of us in the welding department are feeling pretty overwhelmed with these results," Welch said.