Eastern's Noel Carmack gives a lecture on Pulp Fiction artist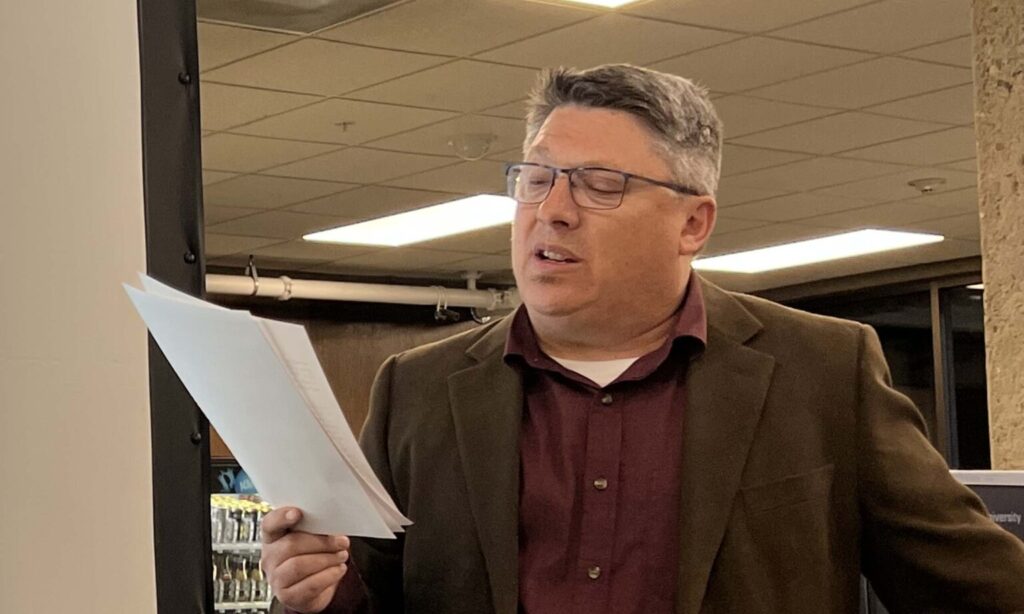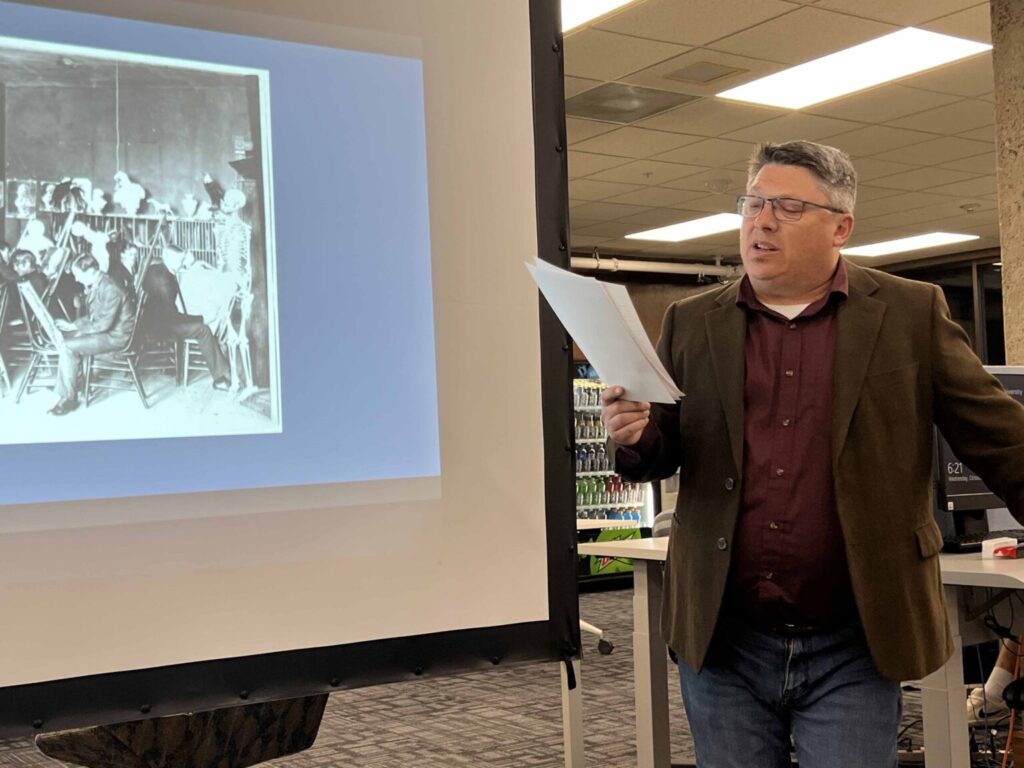 One of the most famous commercial artists to graduate from Utah Agriculture College (Utah State University) has little history written about him despite his incredible portfolio.
In associate art professor Noel Carmack's faculty presentation on Oct. 25, "The Early Life of Learning of Herbert Morton Stoops, Illustrator of American Pulp Fiction and the Utah Agriculture Colleges First Celebrity Alum," he discussed Stoops' history and career.
Stoops was born in Parowan, Utah, in 1887, the son of a Presbyterian missionary and educator. His father oversaw missions in Richfield and Salina and later moved the Stoop family to Kilgore, Idaho, with his family of eight, as ranch hands.
He chose to attend UAC where he majored in art and took classes from professors Henry J. Stutterd, Jonathan Powell and Calvin Fletcher. While at UAC, he served as the staff artist for the campus periodical, "Student Life," where his drawings were first recorded.
According to Carmack, "As a student at UAC, Stoops developed his abilities for drawing characters in active narrative situations. This would have been part of his duties as the 'Student Life' staff artist, covering the various campus activities includung play productions, football games and social events. "
From professor Stutterd, he would have learned the latest methods and principle of illustrations and design. The 1905 general catalog described the course, "Illustrating" as "Magazine, newspaper and commercial illustrating. This includes pen and ink drawings, wash drawings for half tones, water colors and oils, crayon drawings, lettering, show card writing, designs, titles, numbers, book plates, caricatures and cartoons."
Another class he took, "Composition," involved "The study of the composition of line, tone and color applied to architecture, sculpture and painting. Original compositions by the students, using as motives objects, flowers, plants, birds, animals, human figures and landscape forms. Study of the works of the masters, with consideration given to conception and execution."
Stoops graduated from UAC in 1908, moving to San Francisco where he landed his first newspaper job at "The Call." As a staff artist, Stoops continued to hone his skills as an illustrator.
He moved to Chicago to study at the Art Institute, while working as a staff artist for "The Chicago Tribune."
Prior to World War I, he joined officers training at Fort Sheridan in 1915 while living in Illinois. During the war, he served in France as a first lieutenant, 6th Field Artillery, First Army Division.
Records reflect that Stoop was a physically powerful man who was prone to giving his friends heartful bear hugs. After the war he moved to New York and married Elise Borough.
During the 1920s, he illustrated interior stories for "Colliers", "Liberty", "Cosmopolitan", "McCall's" and "Ladies Home Journal." He painted his first magazine covers for "The American Legion Magazine."
In 1935, Stoops began to paint covers for "Blue Book," which was one of the more literary pulp magazines. Some of the illustrations are signed with an assumed name that reflects his WW1 experiences in France.
His loose ad vigorous impressionist style of painting had a marked influence on many younger pulp artists, such as Charles DeFeo, A.L. Ross and H.W. Scott.
In January 1947, he began a project with "Blue Book" to paint a memorial cover for each of the 48 states. He died before he could complete the series.
Stoops had a long period of failing health and died in his art studio residence in New York City's Greenwich Village in 1948, a few days before his 61st birthday.
Carmack's presentation was part of USU Eastern's Library and Learning Commons' faculty presentations.