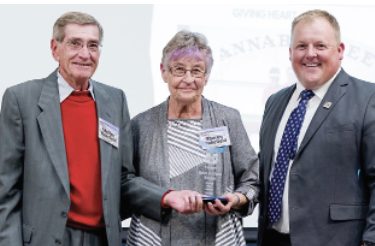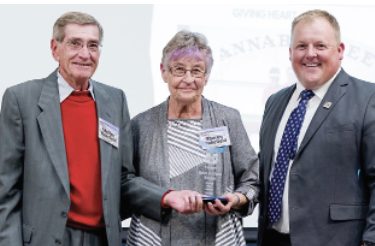 On Thursday, Oct. 12, Utah State University Eastern hosted a Legacy Dinner. This invite-only event aimed to celebrate the history of Utah State Eastern's campus while presenting various awards.
Four distinct awards were presented at the Legacy Dinner. The Giving Heart Award was given to Shelton and Sharon Wakefield for their exceptional efforts in providing financial aid to students and creating a supportive and resource-rich student environment. The Upon Their Shoulders Award was bestowed upon Michael M. King for his role in the merger of CEU and USUE, as well as his multiple responsibilities over the years, including serving as dean of Arts and Sciences and biology department chair. The Community Service Award was presented to Valorie Marietti, recognizing her role in organizing over 50 local fundraisers, raising $350,000 to assist those in need of medical treatments. She is actively involved in numerous charitable organizations, including the director of Angel of Hope Statues, Carbon County Chamber of Commerce, Share and Care Cokayne Syndrome Network, and the Make-a-Wish Foundation, among others. The Outstanding Alumni Award was conferred upon Jared Haddock, who founded the nonprofit organization Vertix, which supports the construction of orphanages and schools in areas requiring assistance. He also served as the College of Eastern Utah's student body president.
Witnessing these exceptional individuals receive awards at the dinner was profoundly moving. Their contributions not only to Utah State University Eastern but also to the world are genuinely inspiring and rightly celebrated. President of Utah State University, Elizabeth Cantwell, was also in attendance. The Legacy Dinner brought together leaders, community partners, alumni, staff (both current and former), residents, and all those who appreciate Utah State University Eastern and its invaluable contributions. This event was necessary to honor those who have made significant contributions to this outstanding institution and the community.
USU Eastern Associate Vice President and Chief Campus Administrator Dr. Doug Miller remarked, "What makes USU Eastern truly unique is its ability to adapt and evolve. Over the years, the institution has transformed itself to meet the changing needs of the community and the students it serves. New programs have been introduced, partnerships have been forged with local businesses, and opportunities for experiential learning have expanded. This demonstrates a continued commitment to ensuring that students are not only equipped with knowledge but also with the practical skills needed to thrive in an ever-changing world."
Utah State University Eastern is an exceptional institution that offers excellent educational opportunities, creating a close-knit community due to its smaller campus size. USU Eastern is dedicated to providing unwavering support to students, staff, and the community while emphasizing quality education and an enjoyable college and campus experience. The Legacy Dinner effectively highlighted this outstanding institution and recognized individuals who have contributed significantly to USUE and the broader community.