Athlete Spotlight: Chris Langhorne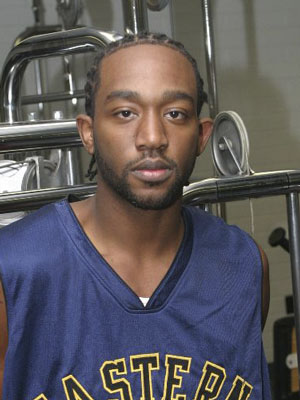 This archived article was written by: Jennifer Jarrett
"To write an article on Chris all you really have to say is 'Great athlete, great kid.'" coach Brady Trenkle stated. "If you know Chris, you know he's great." Chris Langhorne is one person you won't to miss as you walk across campus. Standing 6 feet, 3 inches tall and holding a five-inch-fro Langhorne is not only a great athlete, but a great person.
He is the son of Cryhten and Juel Langhorne, and is the third of four children, three of which play basketball. Langhorne grew up playing with his older brother and started playing seriously when he was a freshman at Willingboro High School.
Coach Bryan Zollinger called Langhorne and recruited Langhorne to play for CEU after a scout saw him play and could only say good things. Coming to Price from Willingboro, N. J. Langhorne made the decision feeling that "coming to Price was just a great opportunity," he said. "Coming out of high school, Chris was in the top 15 of the state," Trenkle said.
For the past three years Langhorne has played shooting guard and currently holds that position at CEU. When asked about his greatest strengths, Trenkle said without hesitation, "Athleticism, just an all around great athlete, hard worker, and very coachable, every coaches dream player."
Friends, teammates, coaches and students all commented on Langhorne's amazing attitude and friendly nature. "Chris doesn't have an attitude, he is always nice," Trenkle said, "You know that if you know Chris. If there is one person in this world who doesn't like Chris, I would say the problem is with them." When watching a CEU, game you will recognize his smile, coming from his love to play and the great fans. "The crowd is great. They are supportive and get into the game, it's just great," he said.
One of Langhorne's favorite experiences on the team has been, "meeting and becoming friends with the new team." He commented about their individual strength, ability, and great sense of humor. Trenkle said, "He is friends with all his teammates, on and off the court. That's not always how it is Chris has amazing leadership ability and helps bond this team. He is the epitome of a team player. He is not all about himself, he is about the team."
The most important aspect he has learned while playing at CEU has been to "always play hard." Langhorne hasn't decided yet what he would like to major in; he is just finishing up generals. However, next year he will be attending a four-year college. Though he isn't sure which one yet, he says he will definitely be playing basketball. "There just isn't enough good to say about this kid and we are glad to have him on our team," Trenkle said.