Athlete Spotlight: Chelsey Jackson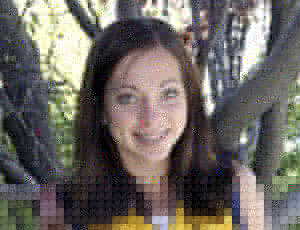 This archived article was written by: Jennifer Jarrett
Coming from a family of five females, no brothers, and being a basketball star sure says something about Chelsey Jackson. From Pocatello, Idaho, she began playing when she was in the fourth grade. At recess she played with all the boys. Jackson is the daughter of Dave and Roxann Jackson and attended Highland High School.
After watching tapes of Jackson, Coach Dave Paur decided to try and bring her to CEU. "She sent a tape and I liked it," he said, "She was a good shooter, had perimeter game; that's important, shooting three's and getting the initial start. We liked what we saw."
"After Coach Paur contacted both me and my high school coach," Jackson said, "They offered me a scholarship and it just seemed like the right place to come." Paur marveled about Jackson and her addition to the team, obviously happy with the choice she made to come here. "She is a real team player," he said, "she is a strong defensive player, shoots consistent three's and has the ability to hit her shots at any key moment. When her teammates are having an 'off' night Chelsey can step in, make a shot, and boost the team."
Jackson plays the position of the Golden Eagles "two guard." She has played that position along with point guard ever since she began playing the game. Jackson's favorite part of being on the team this year is: "Actually winning this season." She is really looking forward to the games against CSI because, "it could determine a lot of things and plus a lot of family and friends can come to the games in Twin Falls. Not to mention I played against one of the girls from my high school."
"I think that our team is going to do very good this year," she said, "we are going to make it to Kansas!"
Jackson's major is undecided right now, but she would like to go into secondary education. She would like to attend Idaho State University and will definitely be playing basketball anywhere she goes.
"Chelsey is the type of player you like to have on your team; not only is she fundamentally sound but when you tell her to do something, she does it. Players like her are hard to find," Paur stated.