College mourns loss of sociology, history instructor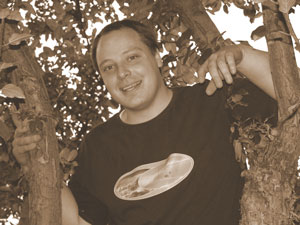 This archived article was written by: Heather Myers
Over the summer CEU lost one of it's most valued and respected faculty members. William Arthur Lanier, "Billy," to friends, students and family, passed away on July 3, 2005.
Lanier was an adjunct instructor who taught sociology and history. Prior to his teaching career he worked in the CEU advising center.
Lanier grew up in West Valley and attended Hunter High School where he enjoyed being part of the school's Madrigal's Choir and roles in school musicals.
He graduated in 1994 and began his college career at CEU. He earned two associate degrees from CEU, an associate's of science with an English emphasis and an associate's of applied science in early childhood development. He received his bachelor's of arts degree with a triple major in history, psychology and government from William Penn University in Oskaloosa, Iowa. Lanier spent time in Australia and in June 2003 received his master's of arts degree in international diplomacy from Bond University in Queensland.
Travel was an important part of Lanier's life. He visited most of Western Europe, Greece, Australia and much of Southeast Asia. He enjoyed seeing different places and hearing stories from the people who lived there.
Lanier liked writing, music and gardening and was known as quite the poet. He especially loved teaching and was quoted in a previous Eagle article as saying that working with students was his favorite part about it. He was also one of the advisers for CEU's literary magazine, the Nighthawk Review.
He kept in contact with his many friends around the world through letters and e-mails. Lanier had quite a few friends in the student body as well as among the faculty and staff at CEU. He also made friends in the local community and was a part of a great many people's lives.
Lanier was honored at a service in Price (his funeral was in Salt Lake) and was remembered as an extremely generous, friendly and caring person. Students, faculty members and people from the local community, as well as Jonathan Lanier, Billy's brother spoke at the service and all remembered Lanier as an all-around wonderful person.
He will be missed.