Hip Hop Rap Fest showcases King Gordy from Detroit, Michigan
Perhaps the most anticipated concert Eastern Utah has ever seen is "The Hip-Hop Rap Festival 2007" presented by "107.9 The Edge and DJ Otherwise" being held at the College of Eastern Utah on September 8, 2007.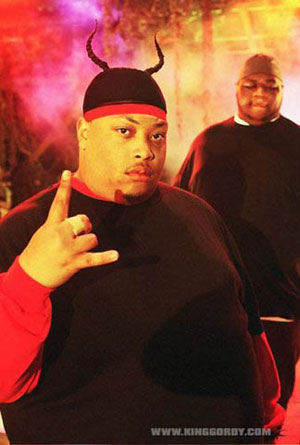 This archived article was written by: Chase D'Ambrosio
Perhaps the most anticipated concert Eastern Utah has ever seen is "The Hip-Hop Rap Festival 2007" presented by "107.9 The Edge and DJ Otherwise" being held at the College of Eastern Utah on September 8, 2007.
The benefit concert, unlike any that CEU has hosted in the past, seems to be stirring up quite a bit of attention, as well it should.   The concert will consist of head line artist King Gordy, and feature The Hood Cartel (THC), The Lake Area Playaz (LAP) collaborated with the 801 Klique, and The Degenerate Saints.   Although each individual act is focused around the rap and hip- hop genre, their styles are incomparable to each other.
King Gordy, coming out of Detroit, Mich., has proven himself a solid entity in the rap game.   With four major albums under his belt which include features by Obi Trice, D12's Bizarre, and album production by Eminem as well as a movie appearance in Eminem's "8 Mile," Gordy has proven to the world that he is a force to be reckoned with.
Gordy brings a sense of style to the mic that most music fans have never heard before, similar to that of Tech N9ne.   With somewhat dark lyrical content compared to Tech and ICP, and a flow similar to Eminem, one thing is for sure, you cannot go wrong with King Gordy.  
With a unique style produced only by King Gordy, he remains to be a hard hitting MC uninfluenced by any other than himself.   According to Gordy's web site (www.thekingorhorrorcore.com/) "he sees his music as pure, hip hop escapism tinged with tough, touches of reality."   One thing is for certain, you will not catch Gordy lost in the limelight rapping about cars, clothes, jewelry and losing touch with reality, he continues to keep it real.
For the fans of real West Coast mob music, The Hood Cartel has got you covered, there's no questioning that.   THC consisting of five members out of Phoenix, Ari., bringing to the mic a hard-hitting style that covers the highs and lows of street life which they know so well.   With their debut album "Nothin but Bangas" (NBB) they hit the street scene hard with songs such as "Bang n' Slang," "We Gon Get It", "Ghetto Symphony" as well as many others.   The "NBB" album slaps listeners giving an in depth look at the reality which consumes the streets of not only Phoenix, but America.
For Utah residents who were unaware of the phenomenally growing Utah rap scene, the Lake Area Playaz are just what the doctor ordered.   LAP (www.myspace.com/lakeareaplayaz ) consists of three members Down-Low, C-Nova and Charlie Brown who are coming out of the nitty gritty city of Rose Park, Utah, LAP slaps the mic with a Hyphy/Bay Area style similar to that of the late Mac Dre, Jay Tee, E-40 and Keak Da Sneak.   Although the music they produce enables the crowd to go dumb, they also touch base on real life issues they faced living on the streets of Rose Park.     With hits such as "Throw Em Up" and "Homie Hopper," LAP displays what the streets of Salt Lake City are all about.
Any fans that are searching for a unique style, perhaps hyphy laced with some real deep street knowledge, then the 801 Klique coming from Rose Park/Price Utah will hit you guys hard.   The 801 Klique is made up of four members Kazmere, Young Money, Zig Zag and Ace.   With local neighborhood favorites such as "Missing You" and "Get Hyphy, Get Crunk" collaborated with Down-Low of LAP there for sure to get things poppin' on stage and show exactly what Price city loves … getting hyphy, getting crunk.
              Last but not least for all those fans that appreciate deep, political and well thought out lyrical content, the Degenerate Saints will satisfy your needs.   With two members coming out of Colorado Springs, Colo., with a style similar to that of Sage Frances, the Degenerate Saints are bound to touch the intellectual needs that true hip hop fans posses.
              It's inevitable that the "Hip Hop/Rap Festival 2007" will be a major success, bringing a large array of people together to enjoy a night full of entertainment.   Whether its rap fans, hip-hop fans, metal   fans, or country fans, one thing is for certain, you cannot deny what is real and that's exactly what is promised at the "Hip Hop/Rap festival 2007"
              Tickets are $10 and are on sale at the CEU BDAC, Little Caesars, Skin Ink Tattoo, Smiths Tix (www.smithstix.com), at myspace.com/1079live and will be available the night of the show.   The concert will be held September 8 at the CEU BDAC.   All proceeds from the concert will be donated towards CEU's radio station.   There will also be a big barbeque/car show the day of the concert which will allow fans to eat, hang out and meet the artists.  Donations will also be accepted throughout the day and night of the concert to help the families of the Crandal Canyon Mine Disaster.