Alumnus returns to Eastern Utah as controller
The "College of Eastern Utah has the potential," according to Brandon Keller, the new controller for the College of Eastern Utah.
Keller's job requires that he manages the college's assets. He tries to make sure that "people can't steal money or property," he also is in charge of the "financials" at the college. As an alumni of CEU he is "impressed" by the changes that happened at the college over the last decade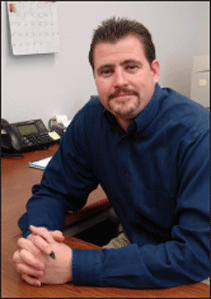 This archived article was written by: Ryan Ware
The "College of Eastern Utah has the potential," according to Brandon Keller, the new controller for the College of Eastern Utah.
Keller's job requires that he manages the college's assets. He tries to make sure that "people can't steal money or property," he also is in charge of the "financials" at the college. As an alumni of CEU he is "impressed" by the changes that happened at the college over the last decade
As the new controller for CEU, Keller's job may be more challenging than usual. This is because of the added financial stress CEU has over the coming years. His last job was in Texas, where he worked for a construction company worth $215 million, which is much greater than the college's.
Keller added the fact that CEU is the "smallest" organization he has worked for. Keller decided to come to the college because of the "potential" it has of going to the "next level."
He attended CEU and went to the University of Utah following his graduation from CEU. With a degree in accounting and being a CPA Keller brings a lot of experience and potential to CEU.
Keller decided to return to CEU because of the potential at CEU, and it is closer to his family. Some of the professors he still recognizes from when he was in college. A few new buildings have been added to the campus since his last sight of the campus. It was when he received a tour of the new campus that he was "impressed with what CEU was able to do over the last 10 years."
Outside of work he enjoys the outdoors and spending time with his family.