A collection of prints
Art instructor Robert De Groff displayed a small exhibition of prints from his collection in the Career Center upstairs hallway display cases. He plans to keep it up for a week or two, until he has student work to show.
Included in the exhibition are original woodcuts, lithographs, etchings, mezzotints and more. The pieces are by himself and other artists, some of whom have international reputations.
He says, "When I tell people that I'm a printmaker, I often get blank stares. If you have ever wondered what exactly printmaking is, this is a chance to find out."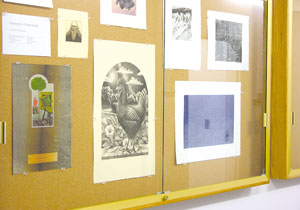 Art instructor Robert De Groff displayed a small exhibition of prints from his collection in the Career Center upstairs hallway display cases. He plans to keep it up for a week or two, until he has student work to show.
Included in the exhibition are original woodcuts, lithographs, etchings, mezzotints and more. The pieces are by himself and other artists, some of whom have international reputations.
He says, "When I tell people that I'm a printmaker, I often get blank stares. If you have ever wondered what exactly printmaking is, this is a chance to find out."
If you have any questions about the prints or are interested in taking a printmaking class, De Groff's office is next to the display cases in MCC 213C.
For those new to campus, the Career Center is the building just north of the SAC that houses (among other things) automotive, welding, nursing, workforce education and … art.