High hopes for Lady Eagles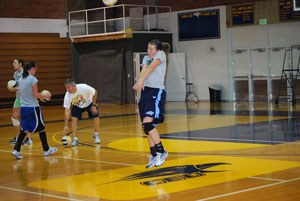 This archived article was written by: Nathan Davis
In the past, the College of Eastern Utah volleyball team has struggled to find its winning ways, but Head Coach Brent Martindale has high hopes for this year. With two returning all-conference players, and eight new additions to the team, the Eagles are looking to improve upon last season's record.
Martindale said about the upcoming season that "I am very excited for my team this year. It is by far my most talented team in 15 years here at CEU." The Eagles only have three players returning from last season, Megan Garvin, Alexis Adams and Chloe Wilson. Adams and Garvin had great seasons last year for CEU, Adams was named to the second team all conference, and Garvin received honorable mention. This will be the first year that Martindale has had a returning all-conference player on his team. Wilson was redshirted last season, after breaking a bone in her foot in the first match of the season. Cami Hussey who was the team manager last season will play for CEU this year.
Thanks to a big recruiting class, the Eagles will be bolstered by eight new freshmen this season. Joining the team will be Julia Potts, Britni Greenwood and Brittany Gustas. All three where members of last year's state runner up Carbon High School Dino's team. Also joining the team is Katie Palmer from Mesa, Ariz. Palmer is the third in her family to play for volleyball for CEU. Erika Thornton from St. George, Utah, and Celeste Allred from Riverton, Utah will also be joining the team. Martindale also recruited two players from Brazil: Sabrina Samis, and Barbara Jamis.
Martindale spoke highly of this year's new additions to the team. He said "Potts was one of the best setters in the state of Utah last year and Palmer played on a very good club team in Arizona. The two Brazilians played at high national caliber levels in Brazil, and bring enormous experience to our team." He said of his team "We have a lot of tools. What will be most important is how quickly our chemistry comes around."
With so much talent on this year's team, it's no wonder Martindale feels that the Eagles will have a successful season. He said that the team's goal for this year is "to win 18 matches and make the finals of the region tournament. We feel if we can get the 18 wins, that will get us a good seed in the tournament and … we can have a real shot at making nationals."
On Saturday August 22 the Eagles opened up their pre-season play against the Eastern Utah All-Stars. The Eagles performed well winning all three games by a score of 25-16, 25-23, 25-19. Adams led CEU to the win, with 10 kills, and .470 hitting percentage. Garvin, and Simas contributed 8 kills each, and 3 aces in the win.
The Eagles now head north to participate in a tournament held at the College of Southern Idaho on August 28-29, then the following week they play in a tournament at Salt Lake Community College. Their first conference match will be against SLCC on Friday, September 25 at the Bunnell-Dmitrich Athletic Center at 7 p.m.
Volleyball
Conference Records
2007-08: 2-8
2006-07: 2-8
2005-06: 0-10
2004-05: 1-9
2003-04: 5-7
2002-03: 1-13
2001-02: 2-6
2000-01: 6-8
1999-00: 3-13