Making it big in college athletics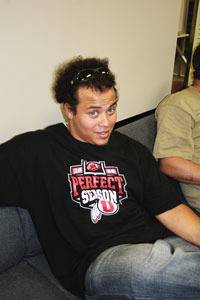 This archived article was written by: Devin Latu
How many high school athletes go on to play college sports? If you were to ask any high school athlete if they were good enough to play at the collegiate level, "of course" would most likely be the immediate response.
In reality, according to the National High School Athletics Association (NHSAA), less than four percent of high school athletes make it into college sports. Some possible reasons for not making it to this level could be injury, money, a scholarship, motivation, academic requirements, or just simply not having the talent. But getting into college sports is only half the battle.
In college, sportsmanship is important because athletes not only represent themselves and their families, but they also represent the college or university that they are playing for.
College athletes all share one common goal. Whether it is basketball, football, soccer, volleyball, baseball, swimming, or even dance. They all want to become professional athletes. But how many of them actually have what it takes to make it big? According to NCAAstats.com, less than two percent of college athletes prove that they have the talent to live the life of a professional sports star. Two percent is not bad at all in comparison to the one percent of high school athletes that make it all the way to the pros.
These statistics prove that student athletes that have the determination to go to college gain the ability, skill, and mental game to play professional sports. College not only gives the tools to further your education, but also gives you the opportunity to further yourself as an athlete if you choose to do so.
In college, athletes push themselves in ways they never did in high school in hopes that they can be drafted to the pros. And for the lucky few who make it, all the hard work and determination finally pays off.