Tips to finding a job
Jessa Adams
photography editor
[email protected]
Many college students are unemployed. Some students feel overwhelmed with school as it is, some students don't have means of transportation so that eliminates some job opportunities, and others have looked high and low for jobs but simply have no luck. These problems can cause higher stress for the average college student. Brittany Casada, a freshman is unemployed and this stresses her because she needs to save money for next semester, and she wants money in case of emergencies this semester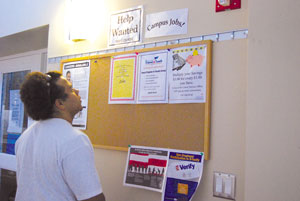 This archived article was written by: Jessa Adams
Jessa Adams
photography editor
[email protected]
Many college students are unemployed. Some students feel overwhelmed with school as it is, some students don't have means of transportation so that eliminates some job opportunities, and others have looked high and low for jobs but simply have no luck. These problems can cause higher stress for the average college student. Brittany Casada, a freshman is unemployed and this stresses her because she needs to save money for next semester, and she wants money in case of emergencies this semester
Brant Peacock is a graduate student who works on campus. His advice to students is to find people who do have jobs and make connection. "If you're talking jobs, you'll find one," he said. Also try trying something new.
Kathy Murray, director of the Career Center which is located upstairs in the Jennifer Levitt Student Center, and is open from 8 a.m.- 5 p.m. weekdays. Her job is to help students find jobs that works with their schedule. She's a lot of help. She wants everyone to be aware of the career assistance you can receive on the school website www.ceu.edu. Murray is constantly updating job openings, every time a job comes in both off and on campus. It's really easy, all you do is go to the school's website www.ceu.edu then click on current students, career assistance then job lists. Pick a job that you're interested in and then contact the employer. If you get hired for a campus job, you need to see Murray at her office. The career center has done the hard part for us; all we have to do is make a call. So ease some stress this semester and try it out.