CEU Theatre opens season with "Room Service"
Eastern Utah Theatre opens its 2009-10 season with John Murray and Allen Boretz's great American farce, Room Service. A hit on Broadway in 1937, and also a Marx Brother's film, Room Service delivers fast-paced comedic action and dialogue.
The story revolves around an unscrupulous Broadway producer holed up in a Times Square Hotel with his director, playwright, and assistant, a ballooning hotel bill, 19 hungry actors, an ambitious hotel director and a show that must go on. Dramaturge William M. Peterson calls the play a "textbook model of farce."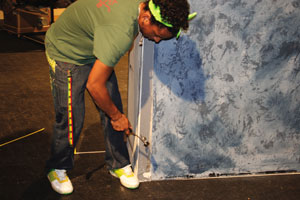 Eastern Utah Theatre opens its 2009-10 season with John Murray and Allen Boretz's great American farce, Room Service. A hit on Broadway in 1937, and also a Marx Brother's film, Room Service delivers fast-paced comedic action and dialogue.
The story revolves around an unscrupulous Broadway producer holed up in a Times Square Hotel with his director, playwright, and assistant, a ballooning hotel bill, 19 hungry actors, an ambitious hotel director and a show that must go on. Dramaturge William M. Peterson calls the play a "textbook model of farce."
Room Service opens Sept. 23 and plays through the 29th with a matinee performance on Saturday the 25th at 2 p.m. Dr. Corey Ewan directs this production.
Opening Nov. 5th is the Utah premiere Sarah Ruhl's, Dead Man's Cell Phone, directed by Todd Olsen.
An incessantly ringing cell phone in a quiet caf . A stranger at the next table who has had enough. And a dead man with a lot of loose ends, describes the action of this contemporary play about being so constantly in touch with one another, or arguably more distant and disconnected.
Or as Charles McNulty, Times Theater Critic wrote, "Dead Man's Cell Phone "is a kind of car-less road movie in which comic episodes propel the protagonist on a wildly impromptu journey to crack the mystery of another person. Sarah Ruhl has been honored as a Pulitzer Prize finalist in 2005 for her play, The Clean House.
The department opens 2010 with Peter Stone and Sherman Edward's three-time Tony Award-winning musical (including Best Musical, 1969), 1776. The play tells of the story of the give-and-take between delegates of the First Continental Congress' debate over independence in 1776 leading to the writing and adoption of the Declaration of Independence.
Ewan will assume directorial duties and maybe more for this production. "We hope to include several members of the community to play various roles within the production. 1776 was revived on Broadway in 1997, was made in to a film in 1972 with much of the Broadway cast intact. It is a humorous and touching play with incredible music and very clever lyrics. It is sure to bring out the patriot and patriotic in all of us," he said.
Finally, the season closes with William Shakespeare's, Measure for Measure. Olsen will take on familiar Shakespearean territory as the play's director.
Written between 1603 and 1604, Measure for Measure, sensitively and forcefully explores the basis of good government, public and private morality and the balancing of justice and mercy. The play is known for its compelling characters, humor, pathos, and beautiful language. "Some rise by sin and others by virtue fall," Ewan.
The 2009-2010 season will mark the beginning of a new venture for Eastern Utah Theatre. "We are introducing a PWYC program, Pay What You Can. It literally means pay what you can to attend certain performances. These performances will be the matinees of the four shows and the proceeds will go to and benefit the Elmo Club, the on-campus theatre club named for Elmo Geary," Ewan said.
Curtain time for these productions is 7:30 p.m., Saturday matinees at 2 p.m. Ticket prices are $10 for adults, $7 for senior citizens, $5 for non-CEU students, $5 for faculty and staff, and $3 for CEU students with activity cards.