Dead Man's Cell Phone opens Nov. 5
An incessantly ringing cell phone in a quiet café. A stranger at the next table who has had enough. And a dead man with a lot of loose ends describes the Utah premiere of Dead Man's Cell Phone written by Pulitzer Prize finalist Sarah Ruhl.
The play comes to the Geary Theatre stage at 7:30 p.m. November 5 through 10 with Sunday dark.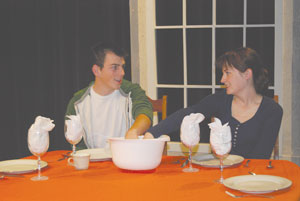 An incessantly ringing cell phone in a quiet café. A stranger at the next table who has had enough. And a dead man with a lot of loose ends describes the Utah premiere of Dead Man's Cell Phone written by Pulitzer Prize finalist Sarah Ruhl.
The play comes to the Geary Theatre stage at 7:30 p.m. November 5 through 10 with Sunday dark.
According to John Lahr of the New Yorker, Dead Man's Cell Phone "is a meditation on death, love, and disconnection in the digital age." Although from this description the play would seem to be very serious in tone, yet it sparkles with wit, passion, humor and a little fantasy and eccentricity.
Todd Olsen directs the talented cast of freshman and sophomores in this "odyssey of a woman forced to confront her own assumptions about morality, redemption, and the need to connect in a technologically obsessed world."
Leading the cast is Nora Wilmarth playing Jean, who answers a stranger's cell phone that changes her life. Michael S. Johnson plays Gordon whose cell phone sets the play into motion. Sheraya Barajas, plays Gordon's mother Harriet and Tanner Snow, his brother Dwight. Rounding out the cast is Leisl Cope playing Gordon's widow, Hermia and Whitney Oliver will be playing the Other Woman and the stranger.
The play has enjoyed performances throughout the United States, Canada and Europe. The idea of a technologically connected but socially disconnected world is intriguing and a bit frightening.
In an interview with John Lahr of the New Yorker, Sarah Ruhl said of the theme of the play that, "we're less connected to the present. No one knows where they are. There's absolutely no reason to talk to a stranger anymore – you connect to people you already know. But how well do you know them? Because you never see them – you just talk to them. I find that terrifying."