Dear Bobbie is rockin' to the top
Running back and forth, jumping up and down, and singing the songs we know; Dear Bobbie took over the stage at Friday Night Shmoozers, Nov. 13.
Starting off the show with their song "Conversations With Myself," the energy exploded from the stage in the Old Ballroom at the College of Eastern Utah. Taking on the genre of the popular band Blink 182, they sang directly to the hearts of their fans and anxious audience.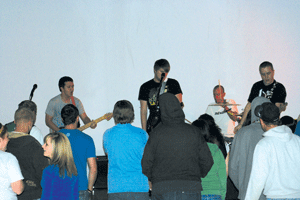 This archived article was written by: Mae Goss
Running back and forth, jumping up and down, and singing the songs we know; Dear Bobbie took over the stage at Friday Night Shmoozers, Nov. 13.
Starting off the show with their song "Conversations With Myself," the energy exploded from the stage in the Old Ballroom at the College of Eastern Utah. Taking on the genre of the popular band Blink 182, they sang directly to the hearts of their fans and anxious audience.
Continuing with original songs and songs written by other artists, the dance floor erupted with dancing and singing alike. Singing the seventh song on their playlist, Taking Back Sunday's "Cute Without the E," the audience sprang to life by singing along to the lyrics they knew and loved.
Dear Bobbie is a four-piece punk/rock/alternative band based out of Price, Utah. They have played throughout Utah and hope to continue to do so. "Dear Bobbie brings happiness to the ears," a quote from their Myspace page.
The band was formed for about five years and though the name was changed several times, the band came to the decision of Dear Bobbie. Paul Arnold, guitarist and vocalist, said, "It was time for a change from the previous name, 'Today's Tomorrow.' So we got the thinking and the suggestion 'Dear Bobbie' came up. And it just stuck."
Some would say that the vocals aren't up to snuff, but when the words come from what they believe in, how can that not be beautiful?
Dear Bobbie can be listened to on the international radio station www.radiobasile.com, CEU's 89.9 or on their Myspace page at www.myspace.com/dearbobbierock.
Also check out their new website www.dearbobbie.co.nr