Hired
Utah State University-College of Eastern Utah Chancellor, Joe Peterson and Athletics Director Dave Paur announced the hiring of Adjalma Vanderlei Becheli, Jr., as head men's basketball coach
Becheli coached professionally in Brazil for 13 seasons before coming to Price. He was also the youngest coach in Brazilian basketball history to be honored as "coach of the year."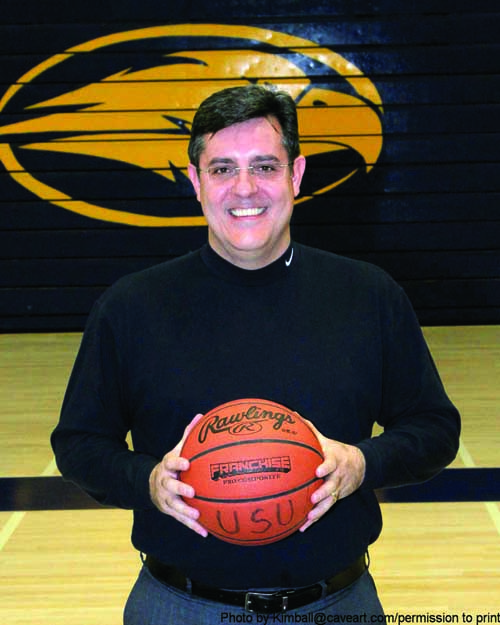 This archived article was written by: KC Smurthwaite
Utah State University-College of Eastern Utah Chancellor, Joe Peterson and Athletics Director Dave Paur announced the hiring of Adjalma Vanderlei Becheli, Jr., as head men's basketball coach
Becheli coached professionally in Brazil for 13 seasons before coming to Price. He was also the youngest coach in Brazilian basketball history to be honored as "coach of the year." 
"Coach Vando," as he is known in the community, will become the first internationally born head coach in Utah State University-Eastern history. Vando, has been the school's assistant women's basketball coach for the past two years. Previously, Vando was an assistant men's coach under Chris Craig, including the 2009-2010 season in which the Golden Eagles placed third in the NJCAA national tournament. 
"I know Coach Vando will do a great job. He is an excellent recruiter and has been placing kids from Brazil all over the United States. I have had the privilege to work with him the past two season as my assistant," said Dave Paur. "We're confident he'll take us to the next level." 
  Vando has worked with and coached former and current NBA Players Rafeal Araujo, Nene Hilario and Leandro Barbosa. " I am so excited and grateful for the opportunity the school and administration has given me," said Vando. 
Vando inherits a basketball program that finished 16-13 this past season and 4-11 in the Scenic West Athletic Conference (SWAC). «The teams are so good here.  It is an extremely tough conference, one of the best in the country,» he said. He replaces interim head coach Brian Edelstein, who was appointed that position due to the unexpected death of Brad Barton three weeks before the season.
"We are excited to have Coach Vando selected as the new head men's basketball coach.  He brings a wealth of coaching and recruiting experience to the program.  The search committee really had a difficult job.  Coach Vando was selected from a field of 157 applications. We have great confidence that Coach Vando will bring stability and success to USU Eastern," said Brad King, vice chancellor.
  Chancellor Joe Peterson said, "Vando brings together all the components of a great coach. He is competitive, committed to athletics and academics, and is involved in the community. He will create a program that we can be proud of." 
He is a native of Sao Paulo, Brazil, and came to Price in 2008. He received his bachelor's degree in physical education at Fefisa, located in Sao Paulo. He has been married to the former Mariana Gornati for five years.