Volleyball trying to get into the swing of things
With a 10-8 record, the Lady Eagles are having a strong season so far. The women and Coach Chelsey Warburton are pretty pleased and excited with how their season is going.
    After the Lady Eagles loss against a highly talented Utah All-Stars team on Sept 21, the women bounced back with two big wins. Three sets to zero in both of those wins. The team held a 6-0 set ratio in the past week against the Salt Lake All-Stars and the Colorado Northwestern Community College women.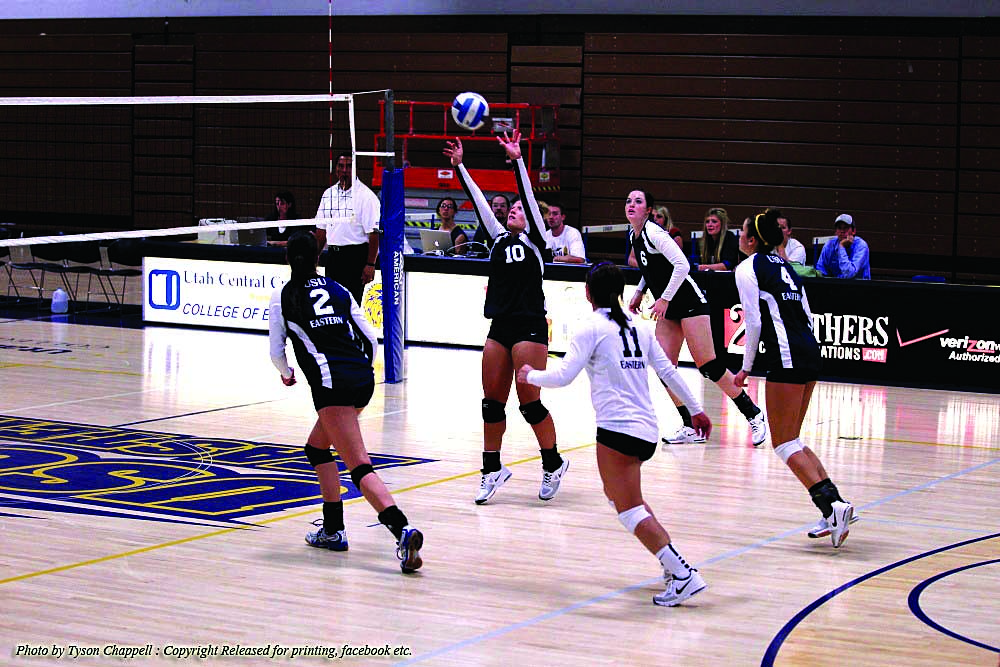 This archived article was written by: Kameron King
With a 10-8 record, the Lady Eagles are having a strong season so far. The women and Coach Chelsey Warburton are pretty pleased and excited with how their season is going.
    After the Lady Eagles loss against a highly talented Utah All-Stars team on Sept 21, the women bounced back with two big wins. Three sets to zero in both of those wins. The team held a 6-0 set ratio in the past week against the Salt Lake All-Stars and the Colorado Northwestern Community College women.
    The Salt Lake All-Stars is a team made up of fellow Eastern Utah players. On Sept. 21, the All-Stars showed up ready to face off against the 2012 Lady Eagles. The battle began with the Lady Eagles winning set one 26-24. They battled back and forth the entire match. The Lady Eagles played tougher than ever showing great moments in all aspects of the game, winning all three sets. Set two and three were both close, but the women came out of set two 25-20 and set three 27-25.
    Day two of the weekend for the Eagles was traveling to Rangley, Colo.  After a long bus ride, the women thought they would be tired and not ready right off the bus. Nerves were coming as this game was the first conference game of the year for the women. They came out and showed their hard work off.
The Lady Eagles tore Rangley apart winning the first three sets out of five. The women won set one 25-9, set two 25-14 and set three 25-10.  
Coach Warburton was feeling "really happy and pleased with her teams play in these past two games." The women felt confident coming out of the weekend and said they love the feeling they have had these past couple of games, and plan to keep this streak going.
On Friday, Sept. 28, the Eagles traveled to Snow College to play the lady Badgers. The women felt really strong and healthy after their last two games. Getting off of the bus, the women had brought the intensity and mindset of the previous week's outcomes. The Eagles played their style of game and had a good fight, but ended up losing in five sets: won 27-25, lost 25-15, won 25-23, and lost 25-20 and 15-9. Each set went back and forth all day.
    On Saturday, Sept. 29, the Eagles traveled to Salt Lake Community College and hoped for a better outcome to their goals. SLCC, however, had a different game plan and came out victorious.
The Bruins came out strong and took the Lady Eagles down in set one. The Eagles stepped up their game, but could not match up to their competitions. The match went quick as the Eagles lost three sets to zero. The Bruins won 25-15, 25-8 and 25-14.
    Coach Warburton feels like, "her women came out flat on Saturday against SLCC; adding we did not have much battle or intensity, and our passing was not exactly on like it was against the Badgers."
    Warburton said she is, "really pleased with how well Whitney Fieldsted has been playing day in and day out; she is a leader on and off the court and the women look up to her a lot." Fieldsted had herself a hay day against CNCC, having 12 kills. CNCC had no answer for how to slow down Fieldsted's game.
    Listening to some of the women on the team, they feel like they cherished their achievements from the past wins too long, and did not have the right mindset or intensity for the games to come.
Sydney Cornforth, a freshman, says, "I know the girls have a lot more in them and that they are all going to step it up and make this a memorable year for the volleyball teams to come in the future."