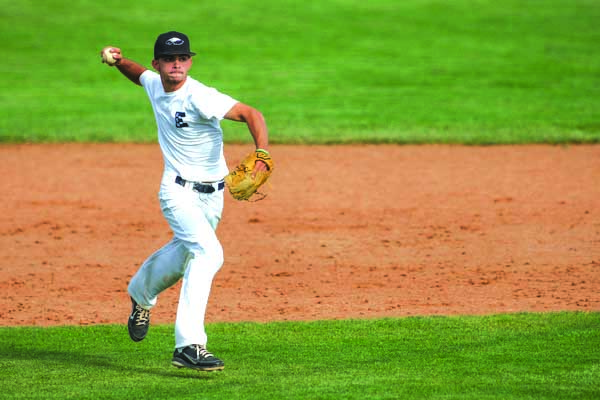 This archived article was written by: Talon Bryan
Traveling thousands of miles to play baseball seems pretty scary, but for two Puerto Rican's it was the chance of a lifetime. Adalberto Quiles plays shortstop for the Golden Eagles and bats from both sides of the plate. Jonathan Santiago plays first base and bats from the left side.
Recruited by a college from Texas; Quiles thought he had the next year planned out, he thought wrong. When the baseball program dissolved, he was forced to move back to Puerto Rico and play with his old high school team. Quiles and Santiago started playing for an academy in Puerto Rico where their coach worked extremely hard to get his players to the next level. Assistant Coach KC and wanted to see what they were about. Smurthwaite had heard of these two players
Smurthwaite commented, "Recruiting Jonathan and Adalberto was very different. Coach Rivera runs the academy in Puerto Rico and he asked me a few questions and then gave me information on some of his available players. Jonathan and Adalberto stuck out to Coach Madsen and me because Coach Rivera spoke extremely high of their character and that they were team players. That's exactly what we got in "Santi" and "Q."
Anxious and excited to play baseball, Santiago and Quiles headed on the road to USU Eastern. "The school here has offered me a lot more than just baseball, I have enjoyed being able to go to class and get an education towards becoming a physical therapist. The organization has also been really nice, I like being able to do what I'm doing," said Quiles.
Santiago stated, "As much as we do like it here I do miss Puerto Rico. I miss my family a lot and all of my friends. It is tough being away from my town also; it's difficult to go from knowing everyone to only knowing a few people."
"All of the people here have been extremely friendly, especially the Big Cat and Durby. It has made the transition a lot easier with everyone wanting to be my friend," said Quiles. "I like all of the motivation I get during baseball here. It is a lot more focused then what we are used to back home."
Quiles and Santiago plan on trying to play at a division one school anywhere in the nation. Both of them plan on majoring in physical therapy and furthering their studies somewhere after Graduating from USU Eastern. Both Santiago and Quiles can be seen during the spring season for the Golden Eagles.