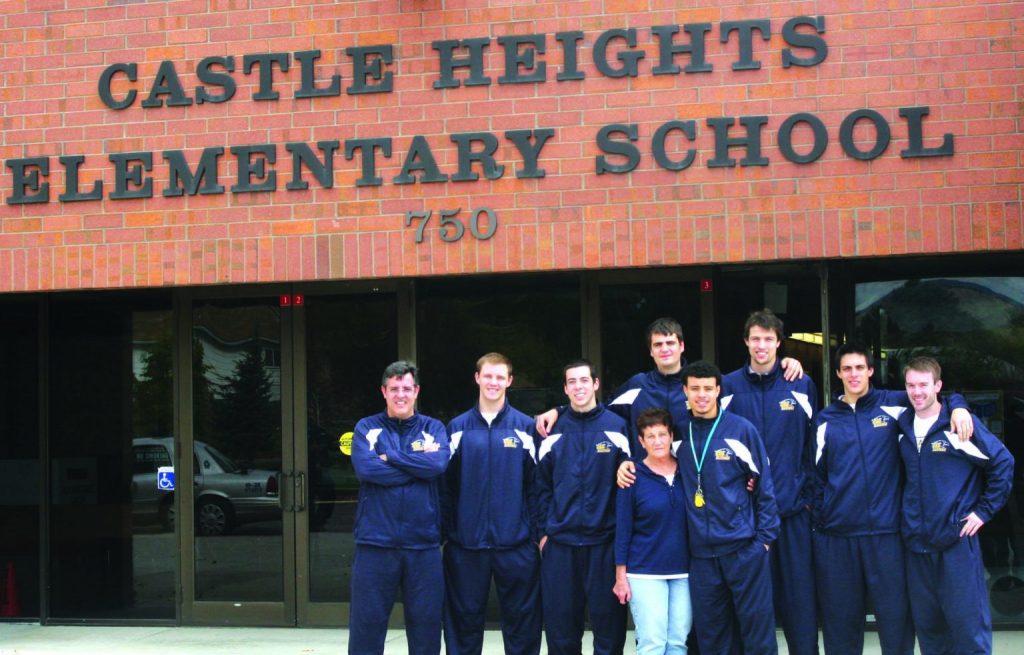 This archived article was written by: Bubby Johnson
It has been said "It takes a village to raise a child." With this message, USU Eastern student athletes participated in an assembly to raise awareness against using drugs for Red Ribbon Week, at Castle Heights Elementary School in Price.
The adage could be explained as the parents are not the only factors in the upbringing of a child. Many figures such as teachers, mentors and peers play a role. Men's Basketball Assistant Coach Carter Roe said, "The visit was a great job by the athletes, very successful. The kids really look up to the guys." The team was introduced in a cafeteria filled with elementary school children that gathered to hear the negative effects of drugs. Luke Savoy of Sugar Land Texas stated "When we first walked on stage, the kids made us feel like celebrities. You could tell we were the highlight of their day." Each member of the men's basketball and women's volleyball teams introduced themself, and gave their spiel on the harm of drugs.
Almir Hadzisehovic said, "Smiling of the kids made me feel good. I have never done anything like this in Serbia, it made me proud." It is safe to say that the players got just as much out of it as the students did. Igor Dias from Rio Grande do Sul, Brazil added "Their [the kid's] energy was awesome; they responded well and interacted well with us." The students were asked to participate in some back and forth with the players to keep the kids attention that showed to be responsive. When the children were asked "what should be your response when asked to do something that you know is wrong?," A powerful "NOOO" filled the cafeteria and even echoed into the halls.
Health was a main issue that was brought up, and something that the young children knew would be damaged if drugs were of use. To finish off their presentation the USU Eastern athletes showed how fit they were by doing 20 pushups as the students counted out their efforts. "I enjoyed doing pushups for the kids, and watching Almir struggle was hilarious," Vitor Silva native of Sao Paulo, Brazil laughed.
From the smiles of the children, the warm feelings of success from the players, and the gratitude of the staff at Castle Heights Elementary; it's safe to say the team can chalk this up as a victory.