Travel to Costa Rica in 2013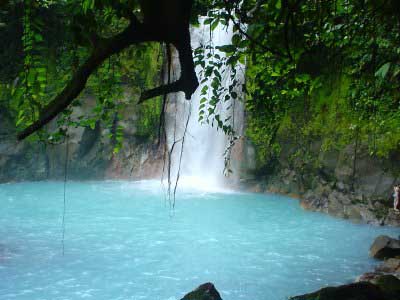 This archived article was written by: Betty Banning
Just across the border to Mexico maybe? A cruise? Maybe it is time to consider somewhere a bit more exotic.
Picture yourself in beautiful Costa Rica next summer. Here you will have a chance to experience lush rainforests, the beach, volcanoes, waterfalls, hot springs, and more.
Starting in San Jose, the capital of Costa Rica, the tour goes to Tortuguero. Enjoy a boat ride through the Tortuguero canals, a visit to the banana plantation and the Tortuguero National Park. The trip also visits Sarapiqui, which has the option of a Rainforest Canopy Tour (zip line), before heading to the Arenal region.
In the Arenal region there is an active volcano, La Fortuna Waterfall, a kayaking trip along Lake Arenal and an optional half day of whitewater rafting. Last is the Guanacaste region, with a free beach day and a full-day excursion to Rincon de la Vieja National Park with bubbling sulphurous mud-pits and an active "mini-volcano."
The trip's cost is $2,124 (age 29 or under) or $2,364 for over age 30.
The trip is not limited to USU Eastern students or employees and is open others looking for a travel opportunity. This adventure departs on May 27 and returns June 4. Airfare, accommodations, most meals and attractions are included.
Another travel opportunity in 2014 is a trip to New Zealand and Australia. This trip includes three days in Auckland and Rotorua, New Zealand, three days in Sydney and three days in Cairns, Australia. Contact Betty Hassell for more detailed information on this trip. Because of the flights involved in this trip, the cost will be approximately $5,000. Hassel wanted to get the word out now so those interested could get started saving for this adventure.
Contact Hassell for more information in Reeves 174 or call 435-613-5270 or email [email protected].