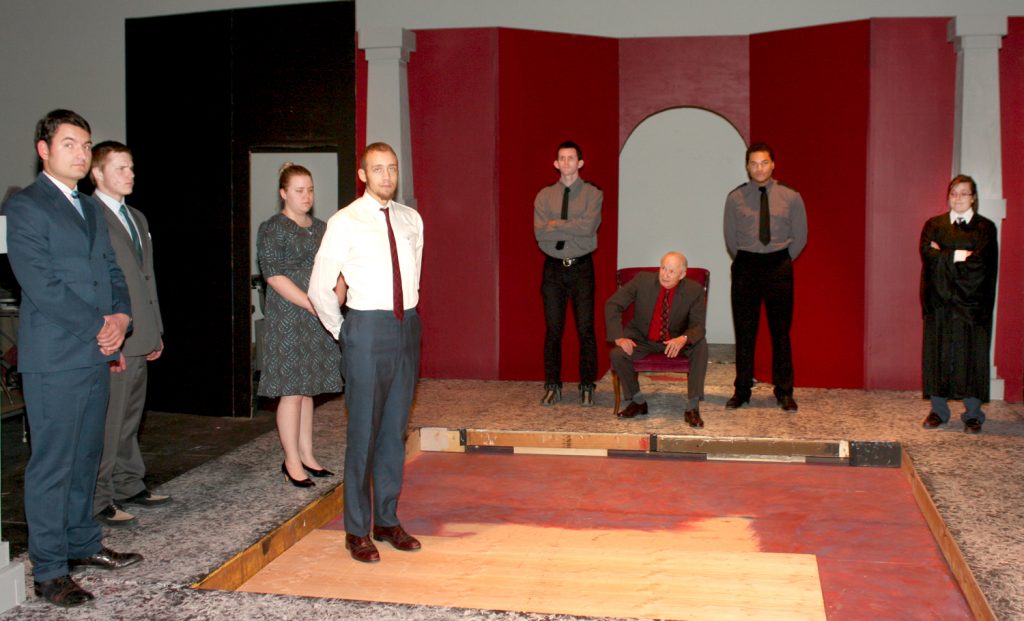 This archived article was written by:
Combining gambling and Shakespeare on the main stage of USU Eastern's Geary Theatre seems like an oxymoron. However, the last two weekends in February, the cast of "Merchant of Vegas" will do just that…play slot machines and recite Shakespearean lines as the production unfolds into the classic comedy.
In a philosophical interview, associate professor Corey Ewan, who doubles as an actor and costumer for the production, says there is not death in this play, which is not a spoiler. "There's too much hate in the world, and through the production, people will see how to respect each other, despite differences. It's about choices people make and the ones they don't."
Ewan wants the play to be fun for the audience: the lights, colors, costumes and enjoyment of the languages. "All the common phrases in the play we can thank Shakespeare for…phrases that were coined over 400 years ago."
Shakespeare's work is universal. His plays are as relevant today as they were when he wrote them. "He writes about the cultures, themes and situations that we write about today," Ewan said.
"Merchant of Vegas" is an adaptation of "The Merchant of Venice" which was written by Shakespeare between 1596-1598. The "Vegas" production was adapted by Wade Arave, who directed a play last spring for Eastern. A theatre graduate, Arave worked in the enrollment management office until June '14.
With Arave's departure, Ewan brought in California native, Jarom Brown, to direct the production. Brown is a graduate of Dixie College, Utah Valley University and William and Mary. He is an adjunct professor at Weber State University.
"Brown is like the twin I never had," Ewan said. "He looks at theatre like I do, he's a artistic doppelganger for me."
He's knowledgeable about Shakespeare's text; brings energy and creativity to the play," Ewan said. For the students who have no Shakespeare experience, Brown works with their talent to introduce them to the first master of play writers. As a director, he is bringing the best performance out of each actor.
Like "Venice," the "Vegas" production will be remembered for its dramatic scenes, and uses Shylock's famous "Hath Not a Jew Eyes?" speech.
Ewan and most of the actors think act four, the courtroom scene, will be the most memorable for the audience. "Who is nice in this play, who is selfish and who is guided by revenge," Ewan questions. The sentence passed in the courtroom is harsh with no show of mercy.
Eastern's production uses the '50s-'60s Rat Pack era to evolve its famous characters.
It is set quasi-round on the Geary Theatre stage with the audience on three sides. The set is built on an elevated stage with a roof over it. Eastern's Brent Innes designed the set for the production.
"My idea for the set is to combine Roman Bath Houses with Caesar's Palace in Las Vegas. I slammed both ideas together and came up with a design I hope patrons will like," Innes said.
The cast includes Libby Petereit, Mckylin Rowe, AJ Brimley, Jen Thomas, Nicole Manley, Josh Bone, Aaron Bone, Matt Russell, Chloe Clark, Donnie Owens, Stanton Rodriguez, Stephen Ewan, John Behn, Innes and C. Ewan. Tickets are $10 for adults, $7 for seniors, $5 for high school students, $3 for children ages 7-13, $3 for USU Eastern faculty and staff and $1 for USU Eastern students with current activity card. No children under 6 will be admitted. The plays runs Thursday, Friday and Saturday: February 19- 21 and 26-28. Because of limited seating, Ewan advises patrons to be in their seats by 7:15 p.m. on the night of each performance.